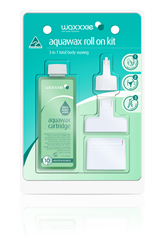 Our comprehensive line of do-it-yourself home waxing products can be used all over the body, and we have a product for all skin types.
BOCA RATON, Fla. (PRWEB) March 12, 2018
Caronlab Australia is primed to launch its long-awaited Waxxxie line of do-it-yourself, natural and easy total body home waxing products, which are now available in the U.S. marketplace.
The product line's U.S. rollout includes six items: the Waxxxie Aquawax Roll on Kit for total body waxing; the Waxxxie Ready to Use Wqax Strips - Body; Ready to Use Wax Sensitive Wax Strips - Facial; Waxxxie Salon Wax, suitable for sensitive and delicate areas; Waxxxie Aquawax, suitable for total body waxing; and reusable high quality woven strips.
"Our comprehensive line of do-it-yourself home waxing products can be used all over the body, and we have a product for all skin types," Caronlab Retail Brand Manager Derek Griffin said. "The ready-to-use Waxing Strips come with 20 strips in a box, and with a sachet of post-wax oil.
"The strips are perfect for a quick touch-up if you're on the go and heading to the beach or the pool, and they're great for traveling. There's no preparation required. You can wax on the run, and it's truly a salon-quality feel you can do yourself in minutes. We have larger strips for the body, and mini strips for the face"
The Aquawax kit is the original microwaveable warm wax kit, which is a sugar-based formula that comes in a 12-ounce jar. It's ideal for waxing larger areas of the body, such as your arms and legs, and it comes with 12 reusable wax strips.
The Salon Wax kit is an easy-to-use, salon-style wax with a gentle and low-heat formula for professional results on the bikini line, face and underarms. It comes in a seven-ounce jar and is great for removing short and stubborn hairs with ease. There are no strips required with this fragrance-free product, and it comes with an application spatula.
The Aquawax Roll On Kit has three different roller heads for the face, delicate areas and the body, and is another sugar-based formula that washes off in water. The kit includes everything needed to achieve salon-quality smoothness at home with no residue, as Aquawax is 100 percent water-soluble.
Lilliane Caron ─ an experienced waxing specialist from Geelong, Australia ─ established Caronlab Australia in 1979. Dissatisfied and frustrated with waxes that were on the market, Caron developed her own premium, yet affordable, products. Her tireless efforts have resulted in research-based beauty care products developed by therapists — for therapists — in conjunction with chemists that have grown to be the leading professional wax brand in Australia today.
Waxxxie's sister line, Bump eRaiser, has seen tremendous growth in the U.S. marketplace over the past couple of years. The Bump eRaiser range was designed to help prevent and eliminate ingrown hairs, redness and bumps for smooth and healthy looking skin both pre- and post-hair removal.
For more information on Caronlab Australia, visit http://caronlab.com.au. Visit http://www.bumperaiser.com.au to learn more about Bump eRaiser, and http://www.waxxxie.com to learn more about Waxxxie.