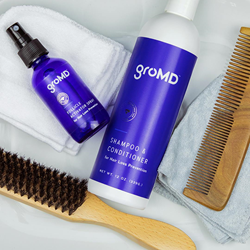 Hair Loss Prevention is my life's work. Many of my patients spent their time and money on treatments that aren't proven to work, and while not everyone wants or needs a surgical hair loss treatment, I wanted to offer an option that would make a real difference in revitalizing and regrowing your hair
BEVERLY HILLS, Calif. (PRWEB) March 09, 2018
GroMD offers a simple and effective daily regimen to combat the biggest detriment to men and women's confidence: hair loss. At GroMD, we understand hair like no one else.
Dr. Amir Yazdan is GroMD's founder and a world-renowned Hair Restoration Surgeon based in Beverly Hill, Ca. He explained, "Hair loss prevention is my life's work. So many of my patients spent their time and money on over-the-counter treatments that aren't proven to work, and while not everyone wants or needs a surgical hair loss treatment, I wanted to offer an option that would make a real difference in revitalizing and regrowing your hair."
The name says it all. The GroMD hair loss shampoo is a powerful treatment and consumers using it have reported for achieving visibly thicker, fuller hair and stopping further hair loss. Dr. Yazdan is revolutionizing the hair care industry by offering high-performing hair care products designed to revitalize, regenerate, and regrow men and women's hair.
The brand is launching with two anti-hair loss treatments, including a unique DHT-blocking Shampoo + Conditioner and a highly concentrated Follicle Activator Spray.
Unlike other hair loss shampoos and hair thickening products that temporarily plump hair from the outside, GroMD Shampoo + Conditioner and Follicle Activator Spray deeply penetrate the scalp to reactivate thinning hair follicles, creating an optimal environment for strand survival.
Dr. Yazdan spent three years sourcing science-based ingredients, herbs, and specific DHT blockers to use in GroMD's proprietary formulas.
Our iconic GroMD Shampoo + Conditioner contains a complex blend of 15 key, active ingredients that with prolonged use can lead to your hair being visibly fuller, thicker, and longer. GroMD targets DHT, the main culprit to male pattern baldness with a proprietary blend of DHT blockers. Ingredients also include caffeine; menthol, which vigorously stimulates dormant follicles; Argan Oil; Biotin; and Niacin. Link to Ingredients
GroMD's Follicle Activator Spray is a topical treatment that absorbs deep into the scalp, generating long-lasting results. A special blend of Vitamin A derivative helps clean out the follicles, which increases the absorption of Minoxidil (also known as Rogaine) for consumers already utilizing its perks. The Activator Spray comes in a no-mess spray bottle to stimulate the follicles directly at the source: your scalp. We recommend using with GroMD Shampoo + Conditioner for superior results.
To help you sift through the many myths about hair loss circulating on the internet, the GroMD website includes educational materials to help you understand the science-based ingredients that are clinically proven to work for hair loss and regrowth. Find out the truth of what works—and what doesn't.
Modena Hair Restoration Center's Chief Surgeon, Dr. Yazdan adds, "With GroMD's hair care system, you get what you pay for. It's a luxury brand, and your results will prove it, upheld with a 60-day money back guarantee."
These two products were thoughtfully designed to fit easily into your daily wellness regimen. No excuses – feed your scalp for gloriously thick and full strands from root to tip with GroMD!
SRP GroMD Shampoo: $59.99
SRP GroMD Activator Spray: $39.99
Launch Date: March 5, 2018
Retailers: Gro.MD, Amazon, Luxury Hair Salons, Select Doctors' Offices
To learn more about GroMD's lifestyle and wellness brand or to see how the GroMD Hair Care System can transform your nightmarish hair into hair that we all dream about, visit http://www.gro.md