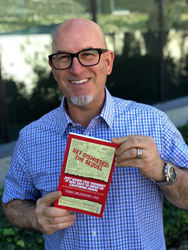 LOS ANGELES (PRWEB) March 09, 2018
GetDismissed.com, California's traffic ticket experts, have just released their new book titled "GetDismissed: The Sequel. Just When You Thought It Was Safe To Drive In California Again," to rave reviews. The book is a follow-up to their successful 2015 release "GetDismissed: No Brainwork Required, It's That Simple."
The authors of the original GetDismissed book, Steven F. Miller and Alexis C. Vega, are back at it again, updating their original book to include new trade secrets, the best roadmap of options on how to fight a traffic ticket, and a whole lot more. The authors accomplish this by breaking down the California traffic ticket system in simple terms. All the information about this process and system are fully disclosed in detail in their new book. They've even updated their popular California traffic ticket fighting web and mobile application to accompany the book.
Immediately after being released, "GetDismissed: The Sequel" garnered critical acclaim and earned the Best of Los Angeles Award for "Best Traffic Ticket Book -- 2018."
"GetDismissed got 4 different tickets of mine cleared, from no seat belt to speeding, they have your documents ready quick and are just a phone call away. I even referred a friend and got their ticket dismissed." Randy Rangel - Los Angeles, CA
"I had never gotten a traffic ticket so the whole process seemed overwhelming. I purchased 'GetDismissed: The Sequel' and thought I would try my luck. I just got my ticket dismissed from court!! I would definitely recommend using their services and reading this book. It's also nice to know you can call them anytime and talk to real people! Thank you!!" Ben Seymore - Pleasanton, CA
"GetDismissed: The Sequel helped me get almost $500 back for a street light camera ticket that was not justified! Thank you GetDismissed, and just in time for the holidays!" Sandy Attanasio - Los Angeles, CA
The "Best of Los Angeles Award" community was formed three years ago and consists of over 3,800 professional members living and working in Southern California. It celebrates the best people, places and things in Los Angeles with a slogan "No Ads. No B.S. Only the Best." (https://www.facebook.com/BestofLosAngelesAwards/)
"The mission of the community is to celebrate the best of Los Angeles, and allow its community members to connect with other members who share the highest standards of quality and integrity," said community spokeswoman Aurora DeRose.
"I am honored to receive this award from the Best of Los Angeles," says Steven Miller. "I worked very hard on the book and I am happy it is delivering results for people."
To learn more about "Get Dismissed: The Sequel", please visit its Amazon page or its website.