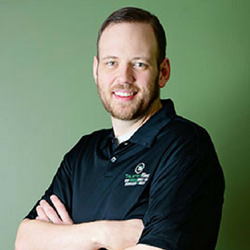 "We are seeing an elevated rise in identity thieves, whose primary focus is tax refund fraud targeting CPA firms. CPAs have been targeted in the past, but recently we are seeing elevated levels of organized crime focusing on them due to the amount of data they have."
BOSTON (PRWEB) March 09, 2018
Accountex USA announced today that David Kennedy, the "White Hat Hacker" and Founder & CEO of security consulting firm TrustedSec will be the featured keynote speaker at the 2018 accounting technology expo. David has had numerous guest appearances on Fox News, CNN, CNBC, MSNBC, the Huffington Post, Bloomberg, BBC, The Katie Couric Show, as well as other high-profile media outlets. The keynote titled "The Hacking Age" will feature a "live hack" onstage and be delivered on August 22nd at 8:40am at the Hynes Convention Center in Boston, MA. Registration for the event is available at http://www.accountexusa.com/register.
According to Accountex Executive Director Brian Cuthbert, "In light of recent IRS warnings urging tax preparers to be on 'high alert', David's presentation will be highly relevant to our audience and we're thrilled to announce his role as our keynote. We're happy to report that over 700 accounting professionals have already registered to attend the event and we're expecting more than 1,500."
David started TrustedSec with the vision of building a world-class information security consulting company. Prior to TrustedSec, David was a Chief Security Officer (CSO) for Diebold Incorporated, a Fortune 1000 company located in more than 80 countries with over 18,000 employees. David developed a global security program that tackled all aspects of information security. David is considered a thought leader in the security field and has presented at over 300 conferences worldwide. David is also the founder of DerbyCon, a large-scale information security conference.
Today, David observed, "We are seeing an elevated rise in identity thieves, whose primary focus is tax refund fraud targeting CPA firms. CPAs have been targeted in the past, but recently we are seeing elevated levels of organized crime focusing on them due to the amount of data they have."
Accountex is the leading independent accounting technology expo featuring a 15,000 square foot trade show floor, which will highlight a collection of over 100 solution providers, outstanding educational opportunities from an unmatched collection of industry experts, ongoing peer networking opportunities, and the opportunity for attendees to earn up to 23 CPE credits.
More information about Accountex USA can be found at: http://www.accountexusa.com.