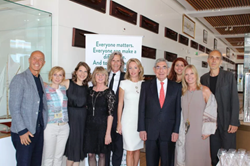 DENVER (PRWEB) March 11, 2018
The PeaceJam Foundation is pleased to announce the creation of an impressive panel for the 2nd Annual PeaceJam Special Jury Prize within the Monte Carlo Television Festival. The purpose of the prize is to recognize outstanding Television Films that embody the spirit of the Nobel Peace Prize, and the prize will be awarded on June 19, 2018 alongside the famous Golden Nymph Awards. Nobel Peace Prize winner Betty Williams will present this prestigious award. The Peacejam Special Jury Prize adds a unique new humanitarian component to the Television Festival.
JURY COMPOSITION
An international assembly of 10 distinguished personalities are tasked with choosing the best entry that fulfills this purpose. The members are: Dawn Engle, Executive Director of the PeaceJam Foundation; Shirli Singh, Philanthropist and President of the Jury; Her Royal Highness Princess Camilla of Bourbon Two Sicilies, Duchess of Castro who is designated as the Monaco Representative to the Jury by HSH Prince Albert II of Monaco; Lara Isoardo, Representative of the Monte Carlo TV Festival; Genie Godula, Anchor at France 24; Raquel Bruno, President of Drive Entertainment Group represented by Russ Bruno; Chiara Sbarigia, General Director, APT, Associazione Produttori Televisivi; Calypso de Sigaldi, VP, AID Accociation Internationale D'actions Artistiques, and Ivan Suvanjieff, President of the PeaceJam Foundation.
SUBMISSIONS
Participation is open to all public and private television organizations as well as to institutions that devote themselves to public understanding. To be considered for the Special Jury Prize, submissions should be made for television broadcast but not necessarily limited to television distribution. Submissions are now open until April 22, 2018. The full rules and procedures can be found at http://peacejam.org/juryprize/
The PeaceJam Foundation is an award-winning peace education program established in 1996. More than 1.2 million young people have participated in the program, from 40 countries around the world.
The world renowned Monte Carlo Television Festival was established in 1961 by Prince Rainier III and Princess Grace, the former actress Grace Kelly.
For further information please contact:
videoinfo(at)peacejam(dot)org