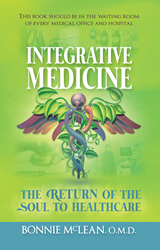 PENSACOLA, Fla. (PRWEB) March 12, 2018
Bonnie McLean's childhood and life has always been immersed in medicine. Her father was a urologist, her mother was a nurse, and Bonnie herself was a registered nurse for 20 years. It wasn't until she herself was in the hospital and experienced poor aftercare, that she decided to take matters into her own hands.
In "Integrative Medicine" McLean explores the history of Western medicine and our healthcare system while also providing readers with an introduction to natural Eastern medicine solutions, such as acupuncture, meditation, and more.
McLean plays devils advocate for both sides in her new book, as she believes that integrative medicine is the future of our healthcare system. By exploring both sides in her book, she allows the patient to become self-empowered by choosing what medical practices work best for them.
"I wrote this book so that the soul could be put back into healthcare," McLean said. "Today's modern system vilifies the two sides with a division among believers and non-believers and I want readers to see that they can successfully integrate both aspects into their lives to increase their overall health."
In "Integrative Medicine," readers can see how integrating both Western and Eastern medicinal principles can help them live a well-rounded and healthy life.
"Integrative Medicine"
By: Bonnie McLean, O.M.D.
ISBN: 978-1-5043-8344-8 (sc); 978-1-5043-8346-2 (hc); 978-1-5043-8345-5 (e)
Available at the Balboa Press Online Bookstore and Amazon
About the Author
Bonnie McLean, O.M.D. has been an acupuncturist for the last 35 years and has been speaking about health and healing for over 40. McLean has traveled all over the world, exploring ancient and indigenous cultures and healing practices. She was also one of the early practitioners of Chinese medicine in the U.S..