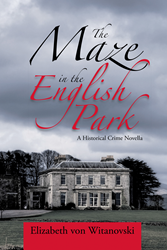 WILMINGTON, Del. (PRWEB) March 12, 2018
Elizabeth von Witanovski's historical crime novella brings together European history and mysterious murder with an intercepting timeline that spans decades.
"The Maze in the English Park" features Prague in 1880s as the scene of an accidental death of a jealous young noblewoman. Unfortunate coincidences set off murders, which, decades later in 1950s London alter the lives of people in England.
When two young men, Karel Bernini, an actor, and Josef von Kaplitz, an aristocrat, fall victim to anarchism, the accidental death of a young noble woman whom they are acquainted with is interpreted as a politically motivated murder, making them run for their lives. Murders and deceit mark their new existence on both sides of the Atlantic.
In 1950's England, a photographer, whose wife is a ballerina with Old Vic theatre in London, finds a roll of underdeveloped role of film in his lover's antique store. In his dark room a story of unaccounted murder takes shape. As he follows the track toward solving it, his own life changes in the most unexpected way.
The book draws upon aspects of von Witanovski's life and extensive career in the arts, such as her move to America from Europe, much like the story's characters. It also features storytelling on a grand emotional scale and detailed descriptions based on Witanovski's meticulously researched historical materials.
"I was inspired by Agatha Christie's mysteries, my own theatre experiences, my life in Prague, visits to Vienna, and my life in America," von Witanovski said. "The book will delight fans of European history, theatre, and mystery while leaving them at the edge of their seats."
In "The Maze in the English Park" readers will follow the twists and turns as they connect the pieces of this riveting historical drama.
"The Maze in the English Park"
By: Elizabeth von Witanovski
ISBN: 978-1-4834-7362-8 (sc); 978-1-4834-7361-1 (e)
Available at the LULU Publishing Online Bookstore and Barnes and Noble
About the author
Elizabeth von Witanovski is a mother of three, member CID UNESCO and graduated with honors from The Prague Conservatory of Music. While following in her family's hundred year professional tradition, she's worked as a ballerina, actress, choreographer, teacher, mime, director, and costume designer and has heard and experienced colorful human stories and tales all over the world. Elizabeth resides on the East Coast and she still enjoys reading fairytales.