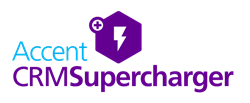 The CRM Supercharger acts like a smart sales assistant.
MELBOURNE, Fla. (PRWEB) March 19, 2018
Accent, the technology leader in sales enablement, today announced the release of its new Accent CRM Supercharger application. The software improves sales team productivity by applying intelligent data analytics to sales and buyer engagement data. The software works within CRM helping sales reps and teams get a better visual picture of sales situations, focus on the right opportunities and get recommendations on next steps.
CRM Data Entry Automation
A key aspect of the CRM Supercharger is automating CRM data entry for reps. Sales managers face a never-ending, uphill battle in trying to get reps to enter data into CRM. The Accent solution addresses the problem by automatically entering sales activity data into CRM in real-time so reps can focus on selling. "The data entry problem is a critical hurdle in delivering an effective sales analytics solution," said Pete McChrystal, Accent CEO. "We don't want reps playing data entry clerks, we want them selling. But, we had to solve the poor data problem or you don't have anything to analyze. Basically, no good data, no good insight and guidance."
Sales Analytics Engine
Accent's CRM Supercharger is driven by its Synthesis Analytics engine which ingests lots of data from various sources, refines it, then serves it up to sales reps as insight and actionable recommendations. Synthesis is a Big Data analytics engine focused on B2B sales. "It's taken us over 3 years to develop our analytics engine. We had to assemble the latest and greatest tech stack and refine the operating system that lets us do the effective analysis. We had some setbacks along the way. But now we're super confident the engine is solid and will heavily impact the way sales teams improve productivity."
Digital Sales Assistant
The analytics engine and its operating system allow teams to ask questions of the sales performance and engagement data. In effect, it acts like a smart sales assistant that can answer most any question you might ask in terms of sales status and performance. The sales assistant also diagnoses opportunities for new developments, as well as any risks and status changes, then offers insight and suggests next steps. "We wanted to make the sales assistant like a smart intern that follows you around, keeping you straight, giving reminders to follow up, alerting on opportunities that need attention and making suggestions on things you could do to improve specific sales situations," McChrystal explains, "And for the most part, we're there. But this is just getting started. The possibilities are incredibly exciting."
For more information about Accent's CRM Supercharger, visit http://www.crmsupercharger.com.
About Accent
Accent Technologies is a global technology leader in sales enablement and sales performance software. The SaaS company helps sales teams sharpen execution and improve sales productivity. Its sales enablement solution is one of the most comprehensive in the market, with sales content management, guided selling and sales performance management. Accent's products are used by companies in more than 100 countries around the globe. For more information, visit https://accent-technologies.com.