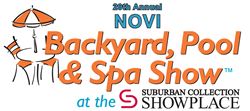 Novi Backyard, Pool & Spa Show is the place to meet with Michigan's backyard, pool and spa industry professionals
NOVI, Mich. (PRWEB) March 13, 2018
The 23rd annual Novi Backyard, Pool & Spa Show will run from Friday, March 23 through Sunday, March 25 at the Suburban Collection Showplace in Novi with everything needed for swimming, entertaining, exercising or relaxing this summer.
"Novi Backyard, Pool & Spa Show is the place to meet with Michigan's backyard, pool and spa industry professionals," said Richard Martin, president of APSP. "Over 40 exhibitors are ready to transform your backyard into your personal resort." APSP is the event sponsor and a non-profit local trade association comprised of member companies in the pool, spa and backyard living business.
Exhibitors will have a wide selection on display and showcase the latest trends, technology and innovations to fit any space or budget for enhanced backyard living relaxation and fun. Hundreds of ideas, products and services are available from the major outdoor living environment categories including inground and above ground pools, spas, swim spas, hot tubs, saunas, decks, patios, fencing, awnings, outdoor kitchens and living spaces, landscaping, water features, brick paving, decorative concrete, patio furniture and accessories.
Homeowners will find the information they need about building, buying or servicing a pool or spa at show exhibits. Experts are available with tips and advice on designing, building, purchasing, planning, maintenance, safety and landscaping. The best of backyard, pool and spa projects will be on display at the APSP consumer education and showcase area.
"Whether it's to swim, entertain, exercise or just relax, our show is the place to make your new or renovated outdoor living space a reality," said Martin. "Exhibitors can renew an existing backyard with a new design, equipment, construction, servicing or refurbishing."
Suburban Collection Showplace is located at 46100 Grand River Avenue between Novi and Beck Road in Novi. Show hours are from 3 – 9 p.m. Friday; 11 a.m. – 9 p.m. Saturday and 11 a.m. - 5 p.m. Sunday. Admission is $8; $4 for children 6-14 and children 5 and under admitted free. Register for $2 off adult admission at the show's Web site. On-site parking is available for a fee. For information on APSP, visit http://www.APSPmi.org. For show information, visit http://www.NoviPoolShow.com, Facebook.com/backyardpoolspashow or call (734) 398-9700.