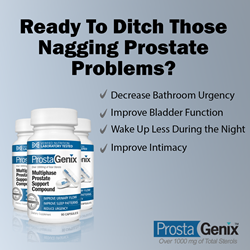 I have battled nagging prostate issues for years and I tried many of the products on the market and nothing worked. But then I discovered ProstaGenix and it was a game changer! I now sleep through the night and feel fantastic every day!
BEVERLY HILLS, Calif. (PRWEB) May 02, 2018
In 2017, ProstaGenix beat 157 products from 16 countries to be named World's Best Prostate Supplement, by organizations such as ProstateReport.com and National Health Federation.
Put simply, all men have prostates and over time they naturally grow and can cause a sizable amount of discomfort. During 2017, the safe, all-natural supplement, ProstaGenix, helped men all over the world say goodbye to their nagging prostate problems. Taken in pill form, the supplement helps reduce nighttime urination, reduce urgency, improve bladder emptying, and diminish intimacy problems.
Proven by hundreds of testimonials, customers have expressed their gratitude and surprise with how effective the product was for them, after trying so many failed products in the past.
What makes this prostate supplement stand out from competitors is the unique ingredients that are in the formula. Unlike the other formulas, ProstaGenix is all natural, containing ingredients like pomegranate, grape seed extract, and BetaRexin, the distinctive element that no other competitor has, imported from southwestern France.
BetaRexin is the strongest blend of Beta-sitosterol in the world. This key ingredient has been proven in published clinical trials to be the most effective, and potent ingredient for improving prostate health. The company attributes the success of their product on the fact that they have worldwide exclusive rights to BetaRexin, the most effective ingredient in improving prostate health. Subsequently, no other product can really compete in effectiveness.
In comparison with other products, ProstaGenix includes more than twice the total sterol count. Verified Nutrition laboratory tested, ProstaGenix is the first and only oral dietary supplement with over 1,000 mg of mixed sterols including over 800 mg of BetaRexin sterols.
ProstaGenix is backed by a gold standard of clinical data. Results have been seen within the first two weeks, but most men start to notice a significant difference in the first 30-45 days. The longer you take the ProstaGenix formula, the more results are seen. The supplement has a money-back guarantee for anyone who doesn't see results within 90 days. ProstaGenix is not a drug – All of the ingredients in ProstaGenix have a history of safe use with no known side effects. The supplement meets all FDA regulations and has no known contra indications with medications. In addition, the FDA has approved claims showing that taking more than 800 mg of mixed sterols, when combined with a healthy diet and exercise, has been shown to lower LDL cholesterol levels.
For more information,visit the ProstaGenix website or call 800-801-0294.