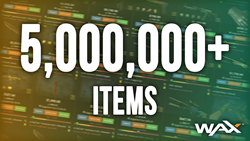 Even at 5 million items, WAX is just getting started.
GRAND CAYMAN, Cayman Islands (PRWEB) March 12, 2018
More than 5 million in-game digital items are now listed for sale in exchange for WAX Tokens on OPSkins.com, the world's largest marketplace for trading in-game digital items.
Items ranging in price from pennies to tens of thousands of dollars can now be purchased using WAX Tokens, and sellers can accept the earnings from their item sales in WAX. Earned WAX Tokens can then be used to purchase other items on OPSkins.com or cashed out to an ERC-20 compatible wallet.
"Even at 5 million items, WAX is just getting started," said Malcolm CasSelle, CIO of OPSkins and President of WAX. "WAX is the world's leading cryptocurrency designed to revolutionize the $50 billion digital items trading market within video games by enabling gamers to trade faster, cheaper, and easier."
In recent weeks, OPSkins has increased the number of items available for purchase and sale with WAX Tokens, including Steam based games Armello, Depth, Day of Infamy, Golf with your Friends, Battalion 1944, and Ballistic Overkill. OPSkins has also announced the upcoming addition of several ERC-721 token items for ETH blockchain-based games including Etherbots, Fishbank, and CryptoBots. These items, called Crypto Collectibles, have been available on OPSkins since 2017 beginning with CryptoKitties.
After launching in December 2017, WAX Tokens were immediately accepted as a form of payment and cashout method on OPSkins.com. Following the increased awareness of WAX and the addition of new games, a total of more than 5,000,000 items can now be purchased using WAX.
WAX is still in its infancy, as it's currently an ERC-20 token, but that's not the final product. The final version of WAX will be a custom blockchain token, already being built that will be available later in 2018. That WAX Platform is what facilitates all of the unique features, including buying and selling items through the use of smart contracts, sharing fee income among multiple parties, pegged asset contracts managing volatility, pledging to guilds, enabling exchange widgets, and more.
According to a recent study of 1,000 US-based video game players, 75% of respondents said they wish they could exchange their virtual goods for currency that they could use to buy/sell on other platforms — which is what the future of WAX will bring them.
About WAX:
WAX is a functional utility token that supports a decentralized platform, enabling anyone to operate a fully functioning virtual marketplace with zero investment in security, infrastructure or payment processing. Developed by the founders of OPSkins, the world's leading marketplace for online video game assets, WAX is designed to serve the 400+ million online players who already collect and trade video game assets and crypto collectibles. With the inclusion of the WAX simple exchange widget, gamers will have access to a worldwide market with blockchain trust and transaction verification. For more information, please visit https://wax.io and http://www.opskins.com.
Worldwide Asset eXchange™, WAX™ and Crypto Collectibles™ are trademarks and the sole property of Worldwide Asset eXchange. All other registered or unregistered trademarks are the sole property of their respective owners.