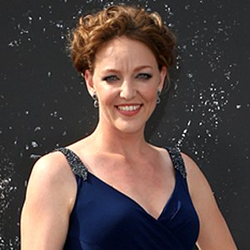 "It has been an honor to serve our military veterans with AMVETS. I appreciate everything that veterans do for our freedom, so I am committed to helping them find and obtain the services they need through programs like AMVETS."- Cahill
WASHINGTON (PRWEB) March 10, 2018
Actress Kerry Cahill of the Oscar nominated film Mudbound and The Walking Dead is to host the 2018 AMVETS Silver Helmet awards in Washington, D.C. on March 9, 2018.
The AMVETS Silver Helmet Awards ceremony recognizes excellence and outstanding accomplishment in the fields of Americanism, defense, rehabilitation, congressional and civil service. In addition to AMVETS members, the audience includes cabinet members' members of Congress and military officials who come to pay tribute to the recipients of the award and AMVETS.
Kerry Cahill was named national spokesperson for AMVETS in 2016. Cahill said, "It has been an honor to serve our military veterans with AMVETS. I appreciate everything that veterans do for our freedom, so I am committed to helping them find and obtain the services they need through programs like AMVETS."
Cahill plays character Rose Tricklebank in the Netflix Academy Award nominated film Mudbound. Netflix made Oscar history as the first streaming service to be up for nominations. Four of eight nominations are for Mudbound. She is also recognized for her role on AMC's The Walking Dead as character "Dianne."
The award-winning actress is dedicated to charitable causes. In addition to her work with AMVETS she has worked with other veterans programs that support healing and treatment for wounded soldiers.
Kerry Cahill is an award-winning actress grew up in a military family in rural towns of Montana, Oregon and Texas. She studied drama at Loyola University in New Orleans, the British American Drama Academy Oxford and Queen's University Belfast. Cahill's film break came under the director Werner Herzog in BAD LIEUTENANT. Recently, Cahill was in the Oscar nominated film Mudbound and she is well-known for her role on The Walking Dead. For more information about Cahill or her upcoming performances contact her publicist tracie(at)ovationpr(dot)net.