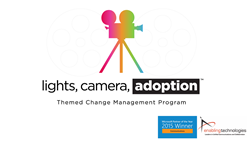 "I can't believe it actually worked! People showed up for training, knew why they were here and were ready to learn." – CIO
ESTERO, Fla. (PRWEB) March 12, 2018
According to Prosci: "The Data is abundantly clear- projects with strong Change Management programs are 6 times more likely to meet the projects objectives." With that in mind Enabling Technologies Corp is proud to announce its Lights, Camera, Adoption: "Adoption in a Box" Program. This program provides all the necessary ingredients for a successful technology project (regardless of the actual technology implemented) to achieve successful end user adoption. Enabling's Lights Camera Adoption program as seen remarkable results:
Our clients have experienced up to:

100% user satisfaction with technology solutions
97% user satisfaction with training provided
95% attendance in training sessions
Less than 10 end user service desk tickets on the day of cut over (staff impacted was in excess of 400)
97% user satisfaction with communications leading up to the deployment
Imagine getting 95% of your colleagues to trainings. Imagine getting just 10 help desk calls on the day of roll over.
"Enabling's change management process was invaluable to the USGA's successful Office 365 and Skype for Business deployments. Enabling was instrumental in coordinating communications and training and leading the training classes, both online and on-site, which resulted in not only a high percentage of the staff attending the training but also the staff were completely prepared on Day 1 when we went live with both new platforms." – Sr Director of IT Ops
Adoption in a Box provides clients with a packaged Organizational Change Management program to support varying degrees of change. These packages are designed to compliment your existing project schedule and milestones while providing increase user adoption and satisfaction with the new technology solution.
Currently we have 3 packages to offer our customers: Essential, Enhanced and Elite. The purpose of these offerings is to create options that take the guess work out of change management for our customers. Choosing the right package is dependent on a combination of factors including the size of the organization, the scope of the change and the internal resources available to support the change.
About Enabling Technologies:
Enabling Technologies is the leading Systems integrator of Microsoft Office 365 solutions. Enabling has 25 years of messaging and real-time communications experience and over 1600 deployments of Microsoft Skype for Business/Lync, Exchange and Exchange Unified Messaging and Office 365. Enabling's tried-and-true processes have helped customers minimize risk, maximize existing investments, and optimize the end-user UC experience. Enabling takes an all-inclusive approach to projects, mastering the technical components while also optimizing the people and process side to technology rollouts. We specialize in secure Cloud solutions including Office 365 and Azure AD, Multifactor Authentication, Intune, Azure Information Protection, Cloud App Security, and Azure Security Center. Having Enabling design, implement, and proactively monitor your Office 365 and Skype for Business systems is the first step to changing the way your workforce thinks about communications, for the better. Enabling Technologies' staff is comprised of seasoned, certified IT professionals who work with a range of next-generation technologies and can recommend and implement the "right solution" for our customers. As validation, Enabling Technologies, a four-time recipient of the Microsoft Partner of the Year award, has provided professional services and solutions to organizations of various sizes from such diverse industries as government, legal, financial, pharmaceutical, manufacturing and medical.
For additional information: Elle Vollerthum - 443.625.5112 evollerthum@enablingtechcorp.com