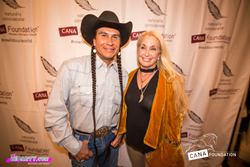 "Each time we reconnect a horse with his or her home, with the land, we are restoring the rightful course of nature and putting our American ecosystem back on a healthy path," says Ms. Kalimian. "Horses have the power to heal our habitats and humanity."
WELLINGTON, Fla. (PRWEB) March 12, 2018
The CANA Foundation recently held its third annual #Rewild Party in an effort to focus on saving America's wild horses from extinction. Over 60,000 wild horses are imprisoned in America, costing taxpayers over $80 million per year. CANA works to release those horses from imprisonment, returning them to the land they know as their home and free them once and for all.
 
The #Rewild Party was held at The Grille Fashion Cuisine in Wellington, Florida, a village in South Florida known as the Winter Equestrian Capital of the World due to its many equestrian events, including the famous Winter Equestrian Festival, the largest and longest-running horse show in the world. The #Rewild Party was attended by hundreds of local community members and additional supporters from throughout Florida and the nation.
 
"I was completely inspired by the support CANA receives annually from the Wellington community," said Manda Kalimian, CANA Foundation founder. "It is truly remarkable to witness the generosity of this close-knit horse loving community and be reminded how they share in the responsibility we all have in protecting horses everywhere. Working and living with horses is truly a privilege."
 
The CANA Foundation works tirelessly to raise public awareness of the more than 60,000 horses who are rounded up from the land they lawfully call their home on America's public rangelands and imprisoned. CANA is a unique foundation; their nonpartisan solutions do not just work to release America's confined wild horses from captivity, but are focused on returning horses to native land to live out their lives naturally or as part of youth, culture, or veterans programs.
 
 "Each time we reconnect a horse with his or her home, with the land, we are restoring the rightful course of nature and putting our American ecosystem back on a healthy path," says Ms. Kalimian. "Horses have the power to heal our habitats and humanity."
 
Not enough people realize the true value of American wild horses and their importance in protecting our public rangelands restoring our human habitat and planet. CANA is working to change that by spreading the message of rewilding far and wide. "It's simple – if we want to save our world, we must rewild our world by returning to a place of balance - and that begins with rewilding America's wild horses," added Kalimian.
 
CANA thrives and survives on the contributions of good people who attend fundraisers like the
#Rewild Party or give online at http://www.canafoundation.org. CANA's rewilding efforts, public awareness campaigns and legislative protections all focus on how to responsibly support harmony between humans, plants, and animals that encourages a beneficial and thriving ecosystem for today and tomorrow. All proceeds raised go towards saving wild horses from extinction.
ABOUT THE CANA TEAM:
Manda Kalimian the Founder & President of the CANA Foundation. Her passion and love for our wild horses has been the inspiration for the foundation and all its members in this fight for our wild horse relatives.
 
Danielle DeVincentis is the Chief Marketing Officer at the CANA Foundation. Danielle's love for horses started young while competing in some of the country's most prestigious horse shows.
 
Moses Brings Plenty is the Director of Rangeland Relations at the CANA Foundation. He is Oglala Lakota born on the Pine Ridge Indian Reservation in South Dakota. Moses is an Oglala Lakota Spiritual Leader; fluent in the Lakota language, culture, and traditions.
 
Will Strongheart is the MC of this event. He infuses his cultural understandings of both his Ojibwe and Lakota heritages to creatively address social issues. He helps CANA deliver our message through various artistic avenues to both social and community relations.
 
J NiCole Hatfield created a much sought-after masterpiece at the #Rewild Party