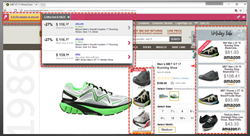 "Our results with Brandlock have been quite impressive"
(PRWEB) March 12, 2018
A few innovative online footwear retailers are seeing a 10% lift in sales by solving a problem very few of their competitors are even aware of—Conversion Theft. Conversion theft is caused by malware w/in a consumer's web browser, which redirects the user to other sites to make the final purchase. In many cases, competitor ads are injected to replace traditional cross-sell areas with products for sale at other retailers. These ads, for example, redirect consumers away from the primary retailer's site to 'better deals' found on sites such as Amazon, Nordstrom, Kohl's, and Macy's.  
According to Mike Baranov, Vice President of E-Commerce and Technology at Footwear etc., roughly 11-14% of the store's online traffic was seeing these unauthorized ads.
"This is a completely invisible problem to online retailers. We only realized the issue when a customer emailed, inquiring about all the ads popping up. A few months later we learned of a solution through Brandlock." According to Baranov, "Brandlock is conversion optimization 101. They remove a key barrier to purchase: competitor ads.  Removing these ads has become critical to our business, as Footwear etc. has moved away from the traditional discounting game or the 'race to the bottom'. Today we're focused on customer service and programs that bring long-term value to our customers. Brandlock is a core element to this strategy."
"Shoppers who see unauthorized ads have a browser infected with malware; oftentimes, they don't know it," says Sanjay Kalinani, Founder & CEO of Brandlock. "A consumer's browser can become infected with malware after he or she downloads software from the Internet. In most cases, a shopper may download a new browser toolbar, plug-in, free anti-virus software, airfare alerts, or a PDF viewer from a free software marketplace. Many times, an affiliate ad network is packaged with such software, which is why the software is free to consumers," Kalinani says.
Affiliate networks serve ads for their clients, including online retailers, and receive a commission for driving traffic and sales to their sites. Affiliate networks are not injecting these ads onto retailers' sites. Instead, such ads are generated by a malware company that attaches itself to an affiliate network.
"Gone are the days of annoying pop up ads. They've now been replaced with contextually relevant ads, which redirect consumers to sites offering competitive products and better deals—aka Conversion Theft," says Michael Miller, Chief Growth Officer at Brandlock.
"Traffic is money to malware companies. They use this method to make money and piggyback on e-commerce," Miller says. "They are using banner space, cross sell areas, or they create a place for the ads from white space and then populate [the space] with products that usually come from legitimate affiliate networks. Usually, there are many mediators or shell companies between the publisher, affiliate network and the (malware) company. It works because consumers respond to price, so they rarely complain about getting a better deal. Combine this with the fact that very few retailers are even aware this is happening, and you've got the perfect scenario for malware players."
Brandlock's solution is a line of JS code that the retailer places on its site. Implementation takes all of five minutes. Brandlock's solution does not require retailers to use a separate interface to track and record results. "Brandlock has a shared success model and "skin in the game". They partner with their clients and only make money, when they deliver results, as determined by an ongoing A/B test that Footwear etc. administers. Therefore the retailer's analytics platform is the system of record for all results reporting," says Baranov.
"Given retailers have been burned by vendors manipulating results, we aimed from the start to take a 'hands off' approach. Therefore, Brandlock doesn't touch or administer the A/B test in any way. We simply focus on what we're good at—stopping Conversion Theft," says Miller.    
"This model came as somewhat of a pleasant surprise to many of Brandlock's 20+ eCommerce clients. Brandlock quickly learned that out of 50+ vendors that any one retailer might be using, not one of them runs a continuous A/B test, offering constant proof of performance. Given that stopping this type of malware is a never-ending game of 'cat and mouse' the results aren't fixed; they'll vary from month to month. Thus, it makes no sense to sign up for a fixed price model. We found that clients really wanted a partner—one with some skin in the game—one who charges based on results, not simply traffic," says Miller.     
"Our results with Brandlock have been quite impressive," says Baranov. "Over the past year we've seen the following:

11-14% of traffic has been infected with malware.
Infected users conversion rate (CR) increased by 251-393%
Overall CR increased by 10-16%.
Overall revenue increased by 9-16%
Essentially, we learned that infected users were clearly responding to ads and converting at a mere fraction of our non-infected users. With Brandlock, we blocked the ads, and the conversion rate within the infected group climbed back to our normal CR, resulting in 251 – 393% gains within that group," says Baranov.
Brandlock's solution is to partner with its clients. The company charges a nominal percentage (usually 3-5%) of the recovered revenue, as measured by a client's A/B test. Brandlock currently has approximately 20 e-commerce clients using its software to prevent conversion theft.