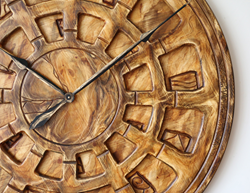 We are so so pleased with our beautiful clock- we spent a long time looking at different options for skeleton clocks but stopped looking immediately after we came across Peakart. Anna went the extra mile to ensure we had a personalised service and that we had the exact piece that we were looking for
(PRWEB) March 13, 2018
Earlier this month Peak Art Clocks have been featured on NewsWatch TV morning show in United States. Although the show is aired very early in the morning, it generated incredible interest among people looking for a unique focal point to their homes. The traffic to the website increased almost tenfold in a space of a week and a long waiting list of US based customers started to build up.
One of the large decorative wall clocks included on the video is truly magnificent piece of art that attracts attention of most demanding customers. The striking large roman numerals with dark graphite colour contrast beautifully with the golden background. Second remarkable example featured in the show is the most stunning grey shabby chic wall clock with empty back and three-dimensional look.
Sure, clocks are practical but Peak Art is looking to make it so much more than just time telling devices. This is what differentiates them from big clock manufacturers. They're seeking to create pieces that are the statement in your home, office, or luxurious penthouse apartment. Their stunning artistry is evident in each wooden wall clock.
The website is now available in three different languages: English, Polish and German. They can ship their beautiful wall clocks to many different countries around the World. Peak Art constantly expand their offer and always stay in touch with their customers throughout ordering and delivery process.
"There are now over 50 different oversized wall clock designs available on the website" says Anna, the founder of Peak Art Clocks. In most cases each of them have to be made to order. New customers often work with Anna to either agree which clock would suit them best or discuss the new shapes and colour schemes. This helps her understand the requirements better and make sure that her clients get this unique piece of art they were looking for.
The Peak Art Clocks also offer personal unique engravings on request. This option became popular among people looking for extraordinary gift for weddings, anniversaries or other special occasions. There is no fixed pattern how the engraving should look like. That is because it is such a personal feature and needs to blend with the overall clock design.
The clocks from Peak Art aren't ready-made which makes them so stunningly beautiful and unique. They are certainly not a choice for bargain hunters but are in great demand among people with expensive taste for home decoration. Peak Art Clocks attract the customers that are looking for a true "wow" factor instead of ordinary product.