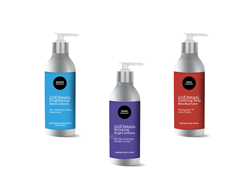 Made by women for women.
TORONTO (PRWEB) March 11, 2018
Damiva Inc. announces the launch of a new beauty line - comprising facial skin care, hand and body lotions - in Spring 2018.
Damiva's product portfolio is expanding from feminine care to beauty and skin care. The company's 100% natural product line now comprises a dozen products for women that are comprised of vegan plant ingredients and not tested on animals. Damiva's core philosophy is that women need personal care products that are free of harmful chemicals and do not disrupt hormones or the environment. A recent study by the National Oceanic and Atmospheric Administration (NOAA) demonstrated that about 50% of air pollution in Los Angeles is due to emissions from consumer products.
"We believe that by creating a new industry standard of 100% natural, we are contributing to a much healthier environment for ourselves and future generations," says Chia Chia Sun, CEO. "With our personal care products, we want to spearhead the movement to reduce the urban air pollution from volatile organic compounds."
Damiva was founded by Chia Chia Sun and Gardiner Smith, President, to create new, innovative products for women's health and personal care.
The beauty line includes products for night-time relaxation, intensive hand moisturizing and brightening, and to combat brow and facial creases. The innovative products are designed to enable women to use natural ingredients for both beauty and wellness.
Damiva's products are sold in major pharmacies and health food stores across the U.S. coast-to-coast on the feminine hygiene, skin care and body care shelves.
Damiva Inc. (http://www.damiva.com) develops, manufactures and distributes innovative natural products for women, and sells coast-to-coast across North America. A pioneer in the women's health space, Damiva was founded to create new products – made for women by women – that address important medical needs.