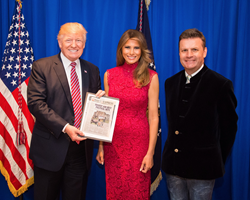 "Astana, Kazakstan could be the best possible place to host the historic meeting of President Trump and President Kim." Said Mr John Mappin
(PRWEB) March 12, 2018
John Mappin, media owner Metropolis Media and political commentator who has now become known across the UK media and Internationally as a DC insider and who was the third British subject to meet with US President Trump and the First Lady Melania. Over the last two years Mr. Mappin had become well known for demonstrating considerable insight into the Trump administration and its fortunes and successes.  At the same time Mr. Mappin's wife Irina is a daughter of Kazakhstan and was born in its capital of Astana.  
The Mappin family today owns media and construction interests there and has unique excellent diplomatic insight and relations with the Presidential government in Astana.
"Initial conversations with friends of ours in diplomatic circles in Astana and Kazakhstan and in the USA indicate that the idea of the Meeting between President Trump and President Kim being held in Astana and hosted by President Nazarbayev of Kazakhstan would be warmly welcomed by both sides," said Mr. Mappin
"Few people in the west know that President Nazarbayev is somewhat of a pioneer on the subject of denuclearisation.  Early in his presidency in 1991 Nazarbayev removed all nuclear weapons from his nation shortly after its founding and has been a strong advocate of nuclear disarmament ever since," said Mr. Mappin
Astana Kazakhstan also has the most wonderful diplomatic facilities. 
"Nazarbayev's presidential palace is completely appropriate for such a meeting and the capital hosts a state of the art media centre that would rival most Hollywood studios,"  Said Mr. Mappin
The Mappin family helped in the media centre's construction.   
"Astana sits at the epicentre of Eurasia and the CIS.  Kazakhstan has excellent relations with all countries within the CIS and the rest of the world. It is know to be peace loving and productive with extraordinary natural resources," Mr. Mappin stated.
As it might not be appropriate for such a meeting to be held in North Korea diplomats have been wresting with location ideas.  
A neutral location is though to be favourable to both parties. 
 
Diplomats from both sides have, before today, been trying to resolve where the meeting should occur.
"Astana would in many ways be the perfect selection of location both due to its safety, its geographical location, its summit facilities, and, perhaps most interestingly, its President's position on Nuclear weapons and disarmament" Said Mr. Mappin.
Mr. Mappin went on to say: "Kazakhstan has been a success story economically and is great example of a country that is investing its resources in its people and infrastructure rather than on wasteful weapons programs."
"Irina my wife and I have been fortunate to have both an excellent relationship with the leadership of Kazakhstan and we have also been keen supporters of the 45th President since he announced his run for the US Presidency.  As media owners in the UK, Internationally and in Kazakhstan, where we also own newspapers,  we see this an an entirely logical solution to the problem of where to hold this Historic meeting and we are delighted that the initial response has been so warm.  We are sure that the great wisdom of President Nazarbayev and his people will contribute to the potential positive outcome of the meeting," said Mr. Mappin
John Mappin who was interviewed from Florida by BBC 5 Live on the morning that the possible denuclearisation of the Korean Peninsular became news for his known insight into US Administration and political scene has now been in contact with both diplomats in Astana Kazakhstan and friends in the USA.  ( Hear Mr. Mappin's BBC Five Live interview on the potential meeting between President Trump and President Kim here https://vimeo.com/259598491 )  
"Initial soundings are extremely positive and if this simple idea helps in the direction of fewer nuclear warheads in this world then that can only be a good thing," said Mr. Mappin
"President Nazarbayev is an extremely experienced and wise leader, in fact our family owes the President a debt of honour as he once saved the life of one of our families journalists that was captured in a war zone.   President Nazarbayev took the time to personally intervene and secured the freedom of that journalist against all odds of their survival.  That journalist, at the time of her capture, was working for our UK newspapers,"  said Mr. Mappin
One can only be impressed by Nazarbayev's extraordinary vision and foresight and the results that have come about for his country under his Presidency.
President Nazarbayev met with President Trump on January 16th this year and the meeting went exceptionally well between both of them.   A US president has never visited Astana to date and so his arrival there for such a special and important meeting would certainly be seen as an honour and a blessing to Kazakhstan.  President Trump is viewed warmly in Kazakhstan and the anticipation would be most warmly welcomed on such a visit.
https://www.whitehouse.gov/briefings-statements/remarks-president-trump-president-nursultan-nazarbayev-kazakhstan-bilateral-meeting/
"Diplomatically Astana is always supportive of any peace idea that could lead to nonproliferation and global disarmament process. As a country that gave up its full nuclear potential in 1991 it is the ideal place to host such meetings," said Mr. Mappin who is currently in Florida meeting with US counterparts and friends.
"I have spoken at length on the telephone to our friends in Astana and they are most excited about the idea" Mr. Mappin said.
BBC Interview.