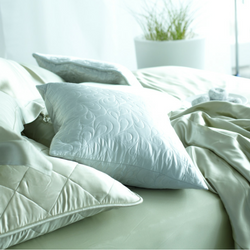 "It's blissful sleeping on Manito luxury Silk Bedding – it's luxurious, incredibly comfortable and great for your skin. Manito luxury Silk Bedding is smooth and chemical-free to provide real beauty benefits. They hit all the marks." - Devon, Los Angeles
FERNDALE, Wash. (PRWEB) March 14, 2018
Manito Luxury Silk Celebrates the Colors of Spring
With spring in the air, Manito Luxury Silk celebrates green sprouts, blue skies, first blooms and the arrival of everyone's favorite bunny. The company is offering four of its luxurious, spring-themed colors on sale for 20% off. A different color each week, starting now through the Easter weekend. All of silver blue, sage green, plum and chocolate will be showcased. Customers will use color-themed codes in their online shopping cart to the following schedule:

Week 1 (March 11th - March 17th) - 20% off Silver Blue Bedding with Code "Blue20"
Week 2 (March 18th - March 24th) - 20% Sage Green Bedding with Code "Green20"
Week 3 (March 25th - March 31st) - 20% off Plum Purple Bedding with Code "Plum20"
Week 4 (April 1st - April 7th) - 20% off Chocolate Brown Bedding with Code "Chocolate20"
Within this range of color, customers can choose from silk pillowcases or shams, silk sheets and duvet covers, bed skirts, euro shams and decorator pillows.
A popular choice and undeniably gorgeous, Manito's Silk Pillowcases and Silk Pillow Shams are also a secret beauty weapon. Hypoallergenic and gentle on the face, some dermatologists argue that silk pillowcases minimize wrinkles. Silk Pillowcases also promote healthy hair by minimizing tangles and breakage. In fact, Good Housekeeping voted Manito North America's most luxurious, and consumer favorite pillowcases for smoothness and comfort.
Manito's contemporary Silk Duvet Covers are beautifully stitched, with an elegant design and a discreet zipper for easy everyday use and care. Silk duvet covers promote a comfortable and healthy sleep environment as the fabric is all-natural, breathable and has unique moisture wicking properties.
Square or lumbar Silk Accent Pillows come complete with feather-filled inserts and feature stunning, meticulously stitched leaf patterns. Manito's Silk Euro Shams are covers only, with a large diamond pattern. All three items feature artfully hidden zippers.
According to John Kenmuir, president of Manito Luxury Silk Bedding and Silk Sleepwear, this promotion will be valid through April 7th, 2018. "Our palate is European influenced and each color is designed to work with other colors in our line. Not only is this promotion an opportunity to save on all of Manito's bedding, but we also encourage existing customers to mix colors. Our soft green works well with plum or champagne, silver blue with charcoal and so on. Our website features stunning imagery where customers can view all bedding items in situ in all colors."
One customer, Devin from Los Angeles states "It's blissful sleeping on Manito luxury Silk Bedding – it's luxurious, incredibly comfortable and great for your skin. Manito luxury Silk Bedding is smooth and chemical-free to provide real beauty benefits. They hit all the marks."
About Manito Luxury Silk Bedding and Silk Sleepwear
Not all silk vendors are created equal. Manito Luxury Silk Bedding and Silk Sleepwear is headquartered and maintains inventory in North America. They offer free shipping anywhere in North America for orders of $50 or more and a 30-day 100% satisfaction guarantee. Manito designs its products in North America, for western colors, tastes and style. Its parent company manufacturers everything Manito Luxury Silk Bedding and Silk Sleepwear sells. Manito Luxury Silk provides the finest silk bedding and sleepwear products available in North America, with unparalleled quality of material and craftsmanship. Manito can be reached through info@manitosilk.com or toll free at: 877-540-7455