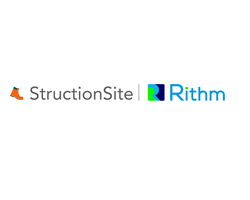 "Connecting our world of reality capture data to key ecosystem partners like Autodesk, Bluebeam, and Procore will remain a top priority in 2018 as our team continues to grow. Exciting times ahead!" - Matt Daly, CEO - StructionSite
SAN FRANCISCO (PRWEB) March 12, 2018
StructionSite Inc., industry-leading 360 photo and video documentation platform, has acquired Rithm LLC, a leader and pioneer in 3D laser scanning for construction QA/QC. The combination promises to provide project teams a unified platform that manages all types of reality capture data, including high quality 3D laser scan data, 360 photos, videos, and even standard jobsite photos. Merging these data sets gives project teams a single application for documentation, communication, and delivery to the owner at the end of the project.
Bringing the 360 'bubble views' from Rithm to StructionSite means scan data becomes accessible in other common construction software, such as Bluebeam® via exported PDF, and Procore® via direct integration with the photo album. It also means that data is now accessible via StructionSite's native mobile app for the field, as well as the web app for the office. The integration begins to streamline reality capture data for VDC and Integrated Construction Technology teams who find this data living in several different and disconnected ecosystems today. By allowing users to combine standard progress photos, 360 photos, and now 3D laser scans with StructionSite's live chat functionality, project teams are gaining a powerful communication tool and a common environment for their reality capture data.
"StructionSite is a perfect fit for us at Rithm. We've always explored how to take reality capture data to the next level with 3D laser scanners using the Minimum Viable Workflow™, just as StructionSite has figured out how to take 360 cameras to the next level".

Philip Lorenzo, CEO, Rithm
"Rithm is a powerhouse in reality capture for construction, it's incredible what they've been able to accomplish in a few short years. Philip and Nathan's passion for reality capture in construction is contagious, it's an honor to be working with them.
For StructionSite, this is a key part of our strategy going forward as we look to partner with the best-in-class reality capture vendors that our customers are already using. The goal is to bring these different data sources into StructionSite while also allowing data to travel from StructionSite back into that vendor's own platform if they choose. We believe data should live in whatever ecosystem our customers want it to live in, not just our own.
While we move from a basic 360 photo app to a more complete reality capture data management tool, we remain committed to keeping our user experience simple, fast, highly integrated. Connecting our world of reality capture data to key ecosystem partners like Autodesk, Bluebeam, and Procore will remain a top priority in 2018 as our team continues to grow. Exciting times ahead!"

Matt Daly, CEO, StructionSite
For users of Rithm, integration of the two software packages means you will be able to send scan data in a 360 'bubble view' format to StructionSite. This enables overlay of scans into the real world using x-ray mode, side-by-side scan-to-model comparison, and easy access via iOS mobile devices. StructionSite users that are using Rithm with FARO's SCENE software will see an integration built and released with the updated version of the Builder App this summer.
About StructionSite:
StructionSite let's project teams 'walk the jobsite' from their mobile device or browser, any time, from anywhere! Combining 360 photos and videos with standard photos (and now 3D laser scans!), StructionSite is a crazy-fast, super simple way to share site conditions with subcontractors so labor arrives just-in-time and just-in-need. At handover, create surprising value for the owner with StructionSite's x-ray mode, which lets the facilities team see through their walls and slabs. Learn more about StructionSite at http://www.StructionSite.com.
About Rithm:
Rithm, the creator of the Minimum Viable Workflow™, pioneered the use of 3D laser scanning technology for construction quality control with two plugin applications built on FARO Technologies' SCENE software. Contractors use Rithm for wet concrete scanning, ASTM E1155 FF/FL analysis, floor contour maps, concrete monitoring, steel monitoring, beam deflection analysis, and much more.
For more information, please contact Kalyn Lengieza, Kalyn@StructionSite.com.