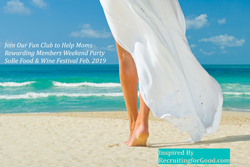 Love Life, Help Moms & Enjoy Rewards
SANTA MONICA, Calif. (PRWEB) March 12, 2018
Join the club rewarding L.A. residents who help moms find jobs; invite only Beauty and Foodie Parties. Recruiting for Good is working collaboratively to help moms find jobs and rewarding referrals with club parties, and travel.
According to Carlos Cymerman, founder of Our Moms Work and Recruiting for Good, "We created Love Life+Join the Club Helping Moms to have fun making a difference."
How to Join the Club
Meet Our Moms Work staff at next fun lunch party in Santa Monica RSVP with Susan(at)ourmomswork(dot)org to reserve a spot.
The club is open to awesome Westside moms, L.A. men and women professionals who love moms, and do community service.
Club Sponsored By Recruiting for Good
Recruiting for Good a staffing company in Santa Monica, works collaboratively to help moms find jobs. People make referrals to companies hiring professional staff enable Recruiting for Good to help connect moms to jobs. Recruiting placement fees earned are shared to fund club member parties, rewards, and travel.
Rewarding Party for Good
First five club members who successfully help Recruiting for Good connect to companies that hire moms in 2018, are rewarded an all-inclusive foodie trip for two to party at 2019 South Beach Food & Wine Festival. (Round-trip flights from LA, 4 night stay at posh beach side hotel, and entry to a main festival event).
About
Recruiting for Good since 1998, has been connecting talented Accounting/Finance, Engineering, and IT professionals to great jobs. "Our fun cause is to help moms find jobs they love....join the club."
Our Moms Work is an intentional social community celebrating and helping moms find jobs they love. L.A. Moms are invited to Beauty Foodie Parties to be inspired, meet like-minded friends, and find a job to love. to learn more visit http://www.OurMomsWork.org