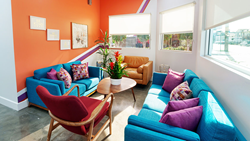 Our unprecedented outpatient facility, located in scenic Beverlywood, California is a safe space that is completely free of judgement where you can easily receive the treatment and dependable care you need with a minimal disruption to your daily lifestyle and routine.
MALIBU, Calif. (PRWEB) March 12, 2018
On Monday, March 12, 2018, Passages Malibu will open their third outpatient rehab center to serve those in the West Los Angeles area who are in need of drug and alcohol addiction rehabilitation. The newest addition to Passages will be called Passages Beverlywood and will offer non-12 Step holistic therapy that will be customized to your specific needs on a flexible schedule.
Unlike inpatient rehab, Passages Beverlywood will make it easy and accommodating to schedule therapy sessions that won't disrupt your day to day routine. You will not be required to stay for an extended period of time or overnight as you would at an inpatient rehab center, such as Passages Malibu or Passages Ventura.
The following services will be offered at Passages Beverlywood:
1. Acupressure & Massage
2. Art Therapy
3. Chemical Dependency Counseling
4. Continuing Care
5. Hypnotherapy
6. Marriage & Family Therapy
7. Physical Training
8. Psychotherapy
9. Yoga
Although treatment at Passages Beverlywood will be affordable for many, they will accept most insurance policies to help with the cost of outpatient rehabilitation.
During your outpatient sessions at Passages Beverlywood, you will meet with highly trained and professional therapists that will work with you to discover and heal the underlying conditions causing your substance abuse related issues. The unique philosophy of Passages is much different than the traditional 12 Step/AA model, in which Passages does not believe addiction to be a disease but rather the result of one or all of the following reasons.
1. Chemical imbalance
2. Unresolved events from the past
3. Beliefs you hold that are inconsistent with what is true
4. Inability to cope with current conditions
Since 2001, Passages has been leading the holistic treatment industry and revolutionized the way addiction has been treated. The success of Passages is credited to the empowering philosophy and top quality care that is unparallel to any other addiction rehab available today. Father and son duo, Chris and Pax Prentiss, created Passages Addiction Treatment Centers after son Pax suffered for ten years with an addiction to heroin, cocaine, and alcohol.
After trying AA and other 12 Step rehabs and detox centers, the only treatment that saved Pax's life was that of which is offered at Passages. It wasn't until Pax discovered what was driving his addiction that he was able to finally treat and heal the underlying causes with customized holistic therapy methods that pinpointed his exact needs for a complete recovery.
If you or someone you know is suffering from an addiction to drugs and alcohol, look no further than Passages Addiction Treatment Centers where you have inpatient and outpatient rehab options and a customized treatment plan that will have you living your best life, free from drug and alcohol dependency. Contact Passages today at (855) 878-8901 for more information.
Passages Beverlywood is located at
2370 Robertson Blvd.
Los Angeles CA, 90034
Website:http://www.PassagesBeverlywood.com
Phone: (855) 878-8901
At Passages - Addiction Ends Here™
About Passages Addiction Treatment Centers:
Founded by father and son duo, Chris Prentiss and Pax Prentiss, Passages Malibu opened in 2001 with its second location, Passages Ventura, opening in 2009 and Passages Venice in 2015. The three drug and alcohol abuse treatment centers offer an alternative to the 12 Step/AA model of addiction treatment by taking a holistic approach with an innovated program that focuses on the underlying issues of substance dependency, rather than suggesting that addiction is an incurable disease. Passages Malibu, Passages Ventura, and Passages Venice have all earned the coveted JCAHO (Joint Commission on the Accreditation of Healthcare Organizations) accreditation, which has only been given to 6% of the nation's behavioral health treatment programs.
Passages also has a luxurious sober living home in beautiful Santa Monica, California set on the beach, perfectly positioned to make the transition from rehab back to society a strengthening and supportive experience. For more information on Passages Santa Monica Sober Living, please visit http://www.SoberLivingHomes.com or call 424-231-8100.
The co-founders of Passages are also authors of the acclaimed series of treatment books that include their groundbreaking flagship book, "The Alcoholism & Addiction Cure" which can be purchased from http://www.PassagesWellnessStore.com along with many other merchandise items.
At Passages, we believe: Addiction Ends Here.
For general inquiries about treatment, please contact (855) 878-8901. Admissions department is available 24/7. Please call at any time.