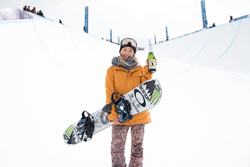 Unfortunately I wasn't able to link up the back-to-back 10's. With the weather as it was, and after failing to put together a run on my fist two attempts I figured I should just chill - Chloe Kim
VAIL, Colo. (PRWEB) March 12, 2018
Monster Energy congratulates snowboarders Chloe Kim and Ayumu Hirano for their victorious runs at the Burton US Open of Snowboarding this weekend. In the first contest since the Olympics, Kim took the victory in Women's Halfpipe and Hirano in Men's Halfpipe. Teammate Jamie Anderson won Women's Slopestyle by default.
Widely considered by riders to be the premier event of the season, the US Open went off for the 36th consecutive year making it the longest running contest in the history of snowboarding. As a contest that was created for snowboarders by snowboarders, "The US Open" is an historic event and generally marks the end of competition season in pro snowboarding — and what a year it was for Hirano, Kim and Anderson.
In recent weeks Kim has evolved from a famous snowboarder to a household name due in part to her gold medal win at the Winter Olympics in February in Pyeongchang. Kim solidified her astonishing season with a convincing win in halfpipe. In a run that saw a method followed by a frontside 1080 double cork, a cab 720 Indy, a frontside 900 tail grab and a McTwist, she earned a 85.87 on her final and ultimately, winning run.
Notably missing was the back-to-back 1080s that she has so famously put together, but the conditions were tough this weekend. With the sun hiding behind clouds and gusty winds she decided it wasn't the best call to go for it.
"Unfortunately I wasn't able to link up the back-to-back 10's," said Kim. "With the weather as it was and after failing to put together a run on my fist two attempts I figured I should just chill."
The win caps off a season to remember for the 17-year-old who in addition to her Olympic Gold medal, also won X Games gold in Aspen.
Meanwhile, for Hirano it was all about redemption as he took to the 22-foot halfpipe on Saturday. After a win at X Games in January, and a silver medal at the Olympics despite a flawless run. Today was a different story and his run went uncontested.
Dropping in with his trademark style, Hirano's first hit was a crowd favorite triple overhead Indy air. He then unleashed a frontside double cork 1440 on his second hit before lining up a cab double cork 1080. Running out of pipe due to his massive amplitude, he was able to finish off his run with a frontside double cork 1260 followed by a backside double cork 1260.
All said and done, the judges awarded him 89.62 points, enough to take the win with ease.
Anderson, also fresh off Olympic Gold earned the win in Women's slopestyle by default as the riders decided the conditions were not safe to ride in. With strong winds and flat light it was an unanimous decision to forgo the event. That said, Anderson was awarded the win because she was the top qualifier from the previous day's semi-finals.
Download photos for editorial use.
For more on Hirano, Kim, Anderson and the rest of the Monster Energy snowboard team visit http://www.monsterenergy.com, and follow Monster Energy on Facebook and Instagram.
About Monster Energy
Based in Corona, California, Monster Energy is the leading marketer and distributor of energy drinks and alternative beverages. Refusing to acknowledge the traditional, Monster Energy supports the scene and sport. Whether motocross, off-road, NASCAR, MMA, BMX, surf, snowboard, ski, skateboard, or the rock and roll lifestyle, Monster Energy is a brand that believes in authenticity and the core of what its sports, athletes and musicians represent. More than a drink, it's the way of life lived by athletes, sports, bands, believers and fans. See more about Monster Energy including all of its drinks at http://www.monsterenergy.com.