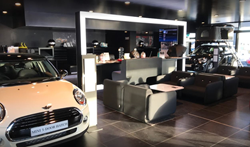 (PRWEB UK) 13 March 2018
This new 3D printing and laser etching service is aimed to offer unique customisation options that have never been seen before on a mainstream production car.
This service is expected to go live in March 2018 and can be retro-fitted to older MINI cars too.
The new MINI Yours Customised range allows owners to design and replace everything from their car's dashboard panels to door sills, indicator inlays and even puddle lights.
John Clark MINI customers can design and order the parts from the firm's online shop, with each one taking less than five minutes to fit.
Using the latest 3D printing and laser etching technology, owners can personalise their MINI car with names, logos or patterns – in a range of colours and textures. The parts take around 12 hours to produce and will be delivered to your door within four weeks.
For more information on MINI Yours customisation, please contact John Clark MINI or visit us at John Clark MINI.