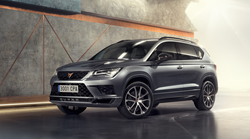 (PRWEB UK) 13 March 2018
The announcement of this re-launch was swiftly followed by the appearance of a new CUPRA Instagram and website with a countdown timer set to reveal the details on the new brand in 22 days.
The teams at Specialist Cars SEAT and Morrisons SEAT watched the countdown timer with anticipation and speculated over which models would be joining the SEAT Leon CUPRA in the new range – with most Sales Executives putting money on a relaunch of the SEAT Ibiza CUPRA.
It has since been revealed that the new models include the CUPRA Ateca High Performance, CUPRA TCR (racing car) and CUPRA E-racer (electronic racing car).
The announcement of these models came alongside interviews from popular DJ, Racing Driver, Fashion Designer and SEAT car designer Alejandro Mesonero, which gives a nod towards creativity from different backgrounds coming together to build something that works in perfect symmetry.
It is clear when you look at images of the new models that impressive design will be a key selling point of the new CUPRA range.
Joe McCauley, Dealer Principle at Specialist Cars SEAT and Morrisons SEAT, said "The CUPRA models have been popular across our dealerships in the past and it's great to see a push towards CUPRA launching as a stand-alone brand. I can really see both existing and new customers buying into the stylish and sporty models and look forward to these hitting the dealerships."
For more information on the SEAT Leon CUPRA at SEAT Aberdeen and Dundee, please visit Specialist Cars SEAT in Aberdeen, Dundee and Stirling.