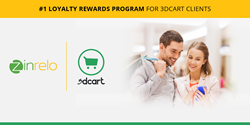 "Zinrelo's ability to drive customer engagement and convert site visitors into loyal customers combined with our wide range of eCommerce capabilities and seamless integration will enable 3dcart stores to grow and succeed." - Jimmy Rodriguez, COO at 3dcart
SUNNYVALE, Calif. (PRWEB) March 14, 2018
3dcart has teamed up with Zinrelo to create a win-win scenario for eCommerce merchants on the 3dcart platform. Zinrelo understands an eCommerce retailer's need to encourage engagement and long-term loyalty with its customer base. Therefore, 3dcart has partnered with Zinrelo to provide a seamless integration of its modern-day loyalty rewards program into 3dcart stores. Zinrelo's 360-degree loyalty program rewards customers not just for purchases, but also for social advocacy, reviews, sign-ups, referrals, photo sharing, and much more.
3dcart is one-stop-shop eCommerce software that allows merchants to build a complete online store with ease. All-inclusive, customizable, and adaptable to any industry, 3dcart is equipped to build, market, and grow an online store.
"We are excited to partner with Zinrelo", commented Jimmy Rodriguez, COO at 3dcart. "Zinrelo's ability to drive customer engagement and convert site visitors into loyal customers combined with our wide range of eCommerce capabilities and seamless integration will enable 3dcart stores to grow and succeed."
Reaping the maximum benefits of this partnership are 3dcart retailers. The ability to seamlessly implement Zinrelo's loyalty rewards program along with special pricing for 3dcart merchants is a huge advantage that will help them retain existing customers with ease. 3dcart customers will enjoy:

Quick deployment: Hassle-free and easy to deploy. Within a few minutes, brands on the 3dcart platform can launch their loyalty program and start rewarding points to customers for various activities.
Affordable pricing: The advantage of affordable pricing with FREE monthly plans exclusively for 3dcart clients. In addition, a risk-free, 30-day free trial on all paid plans, with no credit card required.
360-degree engagement: Engage your customers deeply with your brand. Award points not just for purchases but also for a variety of activities including social advocacy, reviews, account creation, email signups and many more!
Powerful marketing promotions engine: Enables brands to change points mechanisms on the fly and offer promotions on special days, weekends or for a special category of product.
Omni-channel support: Integration with the 3dcart platform allows the program to be deployed seamlessly across desktop web, mobile web, mobile apps and brick-and-mortar store environments.
ROI driven program: Zinrelo's result-driven program helps brands increase repeat sales and boost per-customer revenue through 360-degree engagement.
"The partnership between Zinrelo and 3dcart helps retailers build lasting relationships with their customers" stated Samir Palnitkar, Founder at Zinrelo. "Loyalty and engagement lead to repeat business, and we've got a formula that's working. Making implementation simple and straight forward is just the cherry on top."
About 3dcart:
3dcart (http://www.3dcart.com), located in Tamarac, Florida, is the most SEO-friendly eCommerce platform for retailers and internet marketers to grow their online stores' traffic and sales. 3dcart includes 24x7 Technical Support, 100+ Mobile-Ready Themes, order management software, built-in blog, email marketing tools and more. Since 1997, the company has been a leader in the eCommerce market, building online stores for businesses of all sizes. Today, 3dcart is Visa PCI Certified and a Google Partner.
About Zinrelo:
Zinrelo brings you the world's best loyalty rewards and referral programs, helping to maximize revenue per customer and new customer acquisition through 360-degree customer engagement. It supports omni-channel interactions including desktop web, mobile web, mobile apps and in-store engagements.
Zinrelo loyalty rewards program boosts per-customer revenue by 2.4 times and repeat purchases by 80%. It creates fiercely loyal customers that are rewarded for all forms of engagements including purchases, social advocacy, reviews, signups, referrals, photo sharing and more. It is fully customizable and is easy to deploy. Zinrelo referral program delivers a 25% uplift in new customer acquisition by converting your customers into brand ambassadors.
To zing your loyalty and referral programs, contact Zinrelo at http://www.zinrelo.com or info(at)zinrelo(dot)com