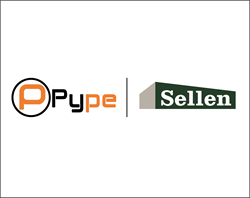 "We know that by implementing our technologies into their processes, Sellen will continue to provide their clients with excellent value." - Sunil Dorairajan, CEO - Pype
WASHINGTON (PRWEB) March 12, 2018
Pype has recently announced its new enterprise-level partnership with Seattle-based company, Sellen Construction.
Sellen Construction, the largest construction company in the Seattle area is implementing Pype's comprehensive solutions tool into their day-to-day operations. Sellen is one of the most innovative builders in the region creating many one-of-a-kind projects. Pype's comprehensive technology solutions will help the company to remain a leading innovator in the industry.
"The excitement around our office and in the field for what Pype's software solutions have done for our teams to produce immediate insights has been astounding. Tedious work that used to take weeks now takes minutes and with unparalleled accuracy," said Jenny Moshea, Director of Technology for Sellen. "We've found that using this software is not only easy but also has boosted our efficiency and effectiveness in starting and completing projects."
The collaboration with Pype will enable Sellen project teams to solve today's critical construction challenges, allowing for both current and future projects to be completed faster while also reducing costs.
"We are beyond thrilled to work with a company as innovative as Sellen," said Sunil Dorairajan, Pype CEO and Founder. "We know that by implementing our technologies into their processes, they will continue to provide their clients with excellent value."
About Pype
Pype provides innovative construction software solutions that enable project teams to start projects faster and finish stronger. Start projects faster by generating submittal logs with Pype AutoSpecs. Our patent-pending software takes a manual, time consuming process and allows you to create submittal logs in minutes. With Pype Closeout, we have automated the entire closeout process which means you get paid faster. http://www.pype.io
About Sellen
Sellen Construction is a locally owned and operated commercial builder founded in 1944 in Seattle. The largest contractor in the region, Sellen builds iconic projects for the region's tech, science, arts, healthcare and hospitality leaders including the Bill & Melinda Gates Foundation Campus, Seattle Children's Hospital Building Hope Expansion, the Museum of History and Industry at South Lake Union, King Street Station Restoration, the new Amazon headquarters and Spheres We believe in building community by creating unique spaces where significant things happen, and in giving back to non-profit organizations that make our community a great place in which to live and work. http://www.sellen.com