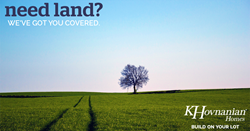 "Whether you are looking for a peaceful countryside setting or a bustling cityscape, there is an ideal piece of land that's just right for you," said Lazar. "Let's match you to it, then let's build on it together."
GREENSBURG, Pa. (PRWEB) March 12, 2018
The K. Hovnanian® Homes Build On Your Lot division has recently unveiled its new Land Matching Program, highlighting a comprehensive database that allows the builder to match prospective homeowners with a homesite based on desired location, size and price. This program will initially launch throughout the Greater Pittsburgh area and then be available at K. Hovnanian® Homes Build On Your Lot Design Studios throughout Pennsylvania, Ohio and West Virginia.
"Everyone wants to build the home they've always wanted, but not everyone has a piece of land to build it on," said Joel Lazar, Director of Sales and Marketing at the K. Hovnanian® Homes Build On Your Lot division. "To help bridge that gap, we developed this innovative new program to match homeowners with a homesite. This is a complimentary service that we offer with no strings attached. Whether you are looking for a peaceful countryside setting or a bustling cityscape, there is an ideal piece of land that's just right for you. Let's match you to it, then let's build on it together."
After the land match is made, the design build process begins. "From selections and financing all the way to move-in day and beyond, we promise to be by your side every step of the way," said Lazar. "K. Hovnanian® Homes is committed to quality and takes great pride in delivering a 100 percent complete, inspected and move-in ready home. We also provide thorough New Home Orientations by knowledgeable New Home Professionals once the process is complete."
Build On Your Lot homes are priced from the $160s. Prospective homebuyers who are interested in building on their lot are encouraged to visit a K. Hovnanian® Homes Design Studio. To learn more about K. Hovnanian® Homes Build On Your Lot or to view Design Studio locations, visit http://www.khov.com/dream or call 866-402-7735.
ABOUT HOVNANIAN ENTERPRISES®, INC.
Hovnanian Enterprises, Inc., founded in 1959 by Kevork S. Hovnanian, is headquartered in Red Bank, New Jersey. The Company is one of the nation's largest homebuilders with operations in Arizona, California, Delaware, Florida, Georgia, Illinois, Maryland, New Jersey, Ohio, Pennsylvania, South Carolina, Texas, Virginia, Washington, D.C. and West Virginia. The Company's homes are marketed and sold under the trade name K. Hovnanian® Homes, Brighton Homes® and Parkwood Builders. As the developer of K. Hovnanian's® Four Seasons communities, the Company is also one of the nation's largest builders of active lifestyle communities.
Additional information on Hovnanian Enterprises, Inc., including a summary investment profile and the Company's 2016 annual report, can be accessed through the "Investor Relations" section of the Hovnanian Enterprises' website at http://www.khov.com. To be added to Hovnanian's investor e-mail list, please send an e-mail to IR@khov.com or sign up at http://www.khov.com.