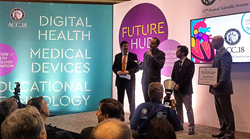 ORLANDO, Fla. (PRWEB) March 12, 2018
Today AngelMD announced the winners of the ACC.18 Innovation Challenge pitch competition. The competition featured startups from around the country, showcasing products and services from either the digital health or medical device categories. The event was held as part of the American College of Cardiology's (ACC) 67th annual Scientific Session & Expo. The ACC.18 Innovation Challenge debuted as part of the ACC.18 Future Hub, which featured TED-style talks and small panel discussions, as well as innovative product and service demonstrations.
The top eight finalists were selected from an initial field of over sixty applicants. The ACC used a panel of experts to narrow the field down to the top sixteen. The team at AngelMD then put each of the sixteen companies through its rigorous evaluation process which judges a company's likelihood of success based on qualities such as the novelty of the product, the past successes of the team, and the business acumen of the startup.
The finalists, as determined by ACC and AngelMD:
Digital Health Category: Corrie Health, HealthPals, Wellflix, Wellth
Medical Device Category: Blumio, Genetesis, PolyVascular Corp., ThermoMorph
Wellth was named as the winning company from the digital health category. The company allows providers to offer financial rewards when patients demonstrate adherence to their chronic disease treatment regimens.
"The companies that presented at ACC.18 represent some of the finest in cardiology," AngelMD CEO Tobin Arthur said. "We are proud to give these AngelMD members a platform to share their accomplishments while enabling them to directly connect with experts in their field for advisement and fundraising."
PolyVascular won the competition for the medical device category. The company has developed a polymeric heart valve for percutaneous delivery in infants diagnosed with congenital heart disease.
"Using Innovation to optimize cardiovascular care and outcomes is the vision of the American College of Cardiology," said ACC Chief Innovation Officer John Rumsfeld, MD, PhD, FACC. "These companies are at the forefront of innovation in medicine, and we're honored to be able to showcase their ideas and provide a foundation for them to further develop their products."
Each winning company received a prize package that includes a $5,000 credit toward investment syndication services through AngelMD. These services include investor accreditation verification, the creation of a special purpose vehicle for angel investors, stock issue documents, the collection of digital signatures, collection of funds, and escrow service for the investment syndicate.
The two companies will also be invited back to the ACC's 2019 conference, where they will be provided with a booth space valued at over $4,000.
About AngelMD - AngelMD is a unique marketplace connecting innovative physicians and investors to early-stage healthcare companies to create better outcomes that save lives and improve medicine. For more information, visit http://angelmd.co
About the American College of Cardiology - The ACC is a 52,000-member medical society that is the professional home for the entire cardiovascular care team. The mission of the College is to transform cardiovascular care and to improve heart health. The ACC leads in the formation of health policy, standards and guidelines. The College operates national registries to measure and improve care, offers cardiovascular accreditation to hospitals and institutions, provides professional medical education, disseminates cardiovascular research and bestows credentials upon cardiovascular specialists who meet stringent qualifications. http://acc.org