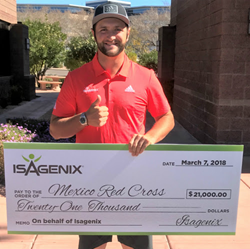 Isagenix is passionate about helping victims of disaster, so Jon's generosity and heart for the people of Mexico really resonated with us. - Erik Coover
GILBERT, Ariz. (PRWEB) March 12, 2018
Isagenix International, a global health and wellness company providing nutrition and lifestyle solutions, is pleased to announce it is matching PGA Tour star Jon Rahm's $21,000 donation to the Mexican Red Cross. The donation stems from the Team Isagenix Elite athlete's performance at the WGC-Mexico Championship March 1-4. Shortly before the golf tournament, Rahm, ranked No. 2 in the world, announced he would contribute $1,000 for every birdie and $3,000 for every eagle to the Mexican Red Cross to help those affected by the recent earthquakes in Mexico.
"As soon as we heard what Jon was doing, we had to get involved," said Erik Coover, Isagenix senior vice president of global field development and culture. "Isagenix is passionate about helping victims of disaster, so Jon's generosity and heart for the people of Mexico really resonated with us. We're honored to help him support the Mexican Red Cross as it provides much-needed assistance to those affected by the earthquakes."
The company's matching donation marks the second time Isagenix has contributed to the Mexican Red Cross. In 2017, it donated to the organization's earthquake disaster fund. Isagenix also encouraged its customers to purchase a box of IsaBar™ Avena con Pasas protein meal replacement bars last year to donate to Mexican Red Cross relief efforts. The company matched those purchases by donating one box of IsaBar for each box purchased.
In 2017, Isagenix contributed nearly $7 million in monetary and product donations to disaster relief and charitable groups supporting children and families.
"I'm thrilled that Isagenix is matching my donation so it will have the greatest impact possible on a community that needs our help," Rahm said. "I truly appreciate having a sponsor that supports and shares my desire to make a difference in the lives of others."
To learn more about Isagenix, visit our newsroom at Isagenix.com, like us on Facebook at Facebook.com/Isagenix, and follow us on Twitter and Instagram at @Isagenix.
About Isagenix International
Established in 2002, Isagenix provides systems for weight wellness, energy, performance, healthy aging, and wealth creation. With nearly 600,000 customers worldwide and more than 100 life-changing products, packs, and systems globally, the company is committed to producing Solutions to Transform Lives™. Since its inception in 2002, Isagenix has generated nearly $6 billion in cumulative global sales through an independent network of associates in the U.S., Canada, Puerto Rico, Hong Kong, Australia, New Zealand, Taiwan, Mexico, Singapore, Malaysia, Colombia, Indonesia, the United Kingdom, Ireland, and the Netherlands. Isagenix is a privately owned company with headquarters in Gilbert, Arizona. For more information, visit Isagenix.com.