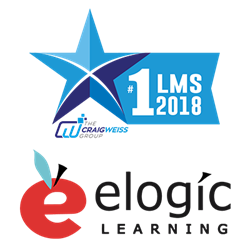 Folks rave about personalization in the industry, but eLogic's eSSential LMS is the only one whereas each learner can have their own theme… No one else does it in the market.
TAMPA, Fla. (PRWEB) March 13, 2018
eLogic Learning's eSSential LMS took the #1 ranking from The Craig Weiss Group for the second year in a row, the first company ever to do so in the industry.
Weiss scores learning management systems on a multi-factor rubric, using his decades of industry experience to determine which features are most important to clients. eSSential LMS earned 100% (or near to) in:

Administration section
Learning environment – "UX and UI are elite"
Manager and instructor view
Classroom management
Compliance and regulatory features, which include digital signature
Ask-an-expert features, being the only LMS to do so
Content curation
E-commerce, only missing features rare in the market
Weiss praised eLogic's best-of-industry product and inclusion of the dominKnow authoring platform. He also highlighted eLogic's commitment to continuous improvement and customization options.
"Folks rave about personalization in the industry, but eLogic's eSSential LMS is the only one whereas each learner can have their own theme… No one else does it in the market," said Weiss. "True personalization. UI and UX are elite. Support is best in the industry. Best system for retail and hospitality. NexGen strong. I'll put it this way, this system has oomph."
Mark Anderson, CEO of eLogic Learning, said of the win: "I'm incredibly proud of how our team collaborates in the LMS product improvement process. Being ranked number one, two years in a row, provides independent credibility and capability of our product performance, and I thank our team, our clients and analysts for direction. But the real value is the client experience from the team supporting the product. I am super humbled by this award, but it doesn't mean that we won't keep improving – this is just the tip of the iceberg for eLogic and we can't wait to show everyone what 2018 and beyond brings."
Weiss can confirm, lauding the excellent product roadmap, track record success, and the fact that there were 129 significant enhancements last year. eLogic isn't holding back on the increased functionality; they are releasing many innovative features this coming year, including Skill and Competency Management functionality.
About eLogic Learning
A leader in the eLearning industry, eLogic Learning offers organizations world class, comprehensive LMS technology and content solutions that increase efficiency and productivity and a strong ROI. The eLogic eSSential LMS supports over five million monthly users and was named the #1 LMS by The Craig Weiss Group, the #1 All-Purpose Extended Enterprise LMS by Talented Learning, and earned the Silver Award for Best Advance in Learning Management Technology for Compliance Training from Brandon Hall. The eSSential LMS makes it easy to manage eLearning, instructor-led and virtual training events, keep up with regulatory compliance requirements, analyze training usage and results, sell courses online with robust ecommerce features, and much more.
In addition to its Learning Management System, eLogic develops custom eLearning content and provides an extensive third-party courseware library. With a comprehensive turnkey approach to implementing learning strategies, eLogic offers professional services and proven expertise in content strategy, business process changes, and the development of corporate training programs.