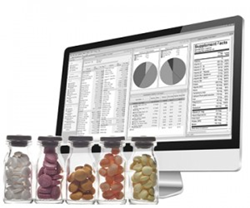 SALEM, Ore. (PRWEB) March 13, 2018
At this year's SupplySide East, April 10-11, ESHA Research will be showcasing the latest enhancements to their innovative Genesis R&D Supplement Formulation and Labeling software, the industry's only program tailored specifically to the needs of supplement and nutritional manufacturers.
At the show, experts will be on hand to demonstrate how Genesis R&D Supplements merges each aspect of the supplement-creation process in a single, easy-use software solution, and to unveil new enhancements, such as percent organics and contaminant tracking, and additional supplement label formats.
"We have tasked ourselves with monitoring consumer trends, manufacturer needs, and federal regulations in order to bring the industry a platform that streamlines the process for bringing their supplement products to market," said Craig Bennett, CEO of ESHA Research. "The Genesis R&D Supplements program epitomizes that work."
Visitors to the ESHA Research booth #D134 at Meadowlands Expo Center in Secaucus, N.J., will be able to demo the program. To schedule a meeting at the show, visit https://www.esha.com/supplyside-east/.
About Genesis R&D Supplements
Genesis R&D Supplements incorporates a wide variety of functions necessary to the supplement-formulation process, including those previously performed using spreadsheets and hand calculations. With Genesis R&D, users quickly create and modify supplement formulations, generate regulatory-compliant supplement labels in a variety of formats, distinguish between active and inactive ingredients, calculate ingredient shelf-life overages and costs, and much more.
About ESHA Research
ESHA Research, founded in 1981, offers a variety of nutritional analysis and label development solutions to ensure regulatory compliance. Our software programs and databases have been used all over the world, by food manufacturers, educational facilities, restaurants, healthcare facilities, and other industry institutions for nutrient analysis, labeling, product development, and more. In addition, ESHA Research offers software and regulatory compliance consulting and label-generation services.