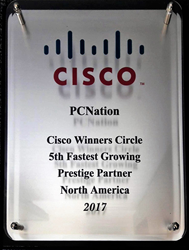 "..Being recognized at the Cisco Winner Circle Partner Event validates the investments we have made in our organization, resources, and brand over the past few years..."-Mike Klein, VP of Sales
NORTHFIELD, Ill. (PRWEB) March 13, 2018
PCNation wins Cisco's Partner Plus Winner's Circle for 2017, recognized as the 5th fastest growing Prestige partner in North America.
At a recent Cisco Partner event held in Cabo San Lucas, PCNation, one of Cisco's fastest growing partners in the Commercial segment, was recognized into the Cisco Partner Plus Winner's Circle for 2017 for their acclaimed Product Sales Excellence in North America.
As a renowned technology leader, Cisco provides products and solutions that enable organizations to connect, communicate and collaborate in ways never before possible. Cisco authorized resellers such as PCNation add value to the brand through expert services and support. By creating long-lasting partnerships with companies such as Cisco, PCNation continues to meet the growing IT needs of its clients with reliable and secure technology solutions for tomorrow's business challenges.
"We are delighted that Cisco has recognized our success and growth this year," says Mike Klein, Vice President of Sales at PCNation. "Being recognized at the Cisco Winner Circle Partner Event validates the investments we have made in our organization, resources, and brand over the past few years. PCNation is committed to delivering results for our customers and I want to congratulate the entire PCNation team for consistently meeting our commitment to provide best-in-class transformational IT solutions to our clients."
As a certified Cisco Partner, PCNation carries the full line of Cisco products including Cisco's Meraki wireless product line.
About PCNation
PCNation continues its 22-year standard of excellence as a leading value-added Cisco reseller (VAR) of a wide range of technology solutions including data center, cloud, managed services, IOT, mobility, and more. Since 1996, PCNation has provided over 100,000+ corporate, educational and government clientele with technology solutions that enable organizations to meet their complex technology needs. PCNation considers a customer-centric culture to be one of the primary reasons for its outstanding growth and it remains a key pillar of PCNation's core business principals.
To learn more about PCNation, visit us @ http://www.pcnation.com
Follow PCNation on LinkedIn
Learn more about the Cisco Partnership Program
Contact PCNation