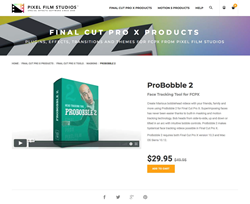 Generating whacky and fun bobblehead effects is made simple with this FCPX Plugin!
ALISO VIEJO, Calif. (PRWEB) March 13, 2018
Create hilarious bobblehead videos with your friends, family and more using ProBobble 2 for Final Cut Pro X. Superimposing faces has never been easier thanks to built-in masking and motion tracking technology. Bob heads from side-to-side, up and down or tilted in an arc with intuitive checkbox controls. ProBobble 2 makes hysterical face tracking videos possible in Final Cut Pro X.
ProBobble 2 includes a variety of bobble controls that allow users to animate heads by simply turning on any of these using beginner friendly checkboxes. Users can then adjust the distance the bobble moves using the amount sliders and the rate at which the effect moves using speed sliders.
ProBobble 2 improves upon the original by offering built-in masking functionality. Add masking points by clicking around the head of the subject in the viewer window. Points can be smoothed, added or deleted with ease. If the image has already been cut-out with a transparent background, users can try the [No Masking] preset instead.
The new motion tracking ability included in ProBobble 2 gives users an easier workflow than ever before. First, move the tracking box to the head of the subject in the footage, then hit the track forward button and let ProBobble 2 do the rest.
ProBobble 2 also offers the keyframe assistant functionality from the original ProBobble as an alternative to motion tracking. Keyframe assistant allows users to zoom in close so they can hone in on a specific area. Users can then key the position of the bobblehead on each frame. This method takes longer, but allows users full control over the movement.
The goal of ProBobble 2 is to create fun and whacky bobble-effects with intuitive controls.
Established in 2006, Aliso Viejo, California-based Pixel Film Studios is an innovative developer of visual effects tools for the post-production and broadcast community. Their products are integrated with popular non-linear editing and compositing products from Apple FCPX. Apple, the Apple logo, Mac OS X, and Macintosh are registered trademarks of Apple Inc. in the U.S. and/or other countries. All other trademarks and trade names are the property of their respective owners.