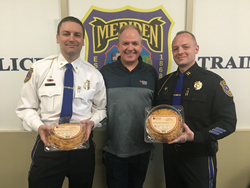 "We think there's no better way to honor celebrate Pi Day than by eating pie. And we are proud to pay tribute to the first responders in our communities by delivering pie to their stations." John Lyman, Executive Vice President
MIDDLEFIELD, Conn. (PRWEB) March 16, 2018
On Wednesday, March 14 (also known as 3.14), the world celebrated National Pi Day, honoring the ever-fascinating, never-ending number, 3.14159.... No matter how you slice your Pi, Lyman Orchards suggests having your own slice of PIE at the Apple Barrel, which opens for the 2018 season this Saturday, March 17.
Although Mother Nature suggested we stay put on Pi Day, teams from the Apple Barrel delivered freshly-baked pies to the police and fire departments of Durham, Middlefield, Middletown, Meriden and Wallingford on Thursday, March 15.
According to John Lyman, Executive Vice President and eighth generation family member, "We think there's no better way to celebrate Pi Day than by eating pie and we are proud to pay tribute to the first responders in our communities by delivering pie to their stations. We cannot thank them enough for keeping our families and homes safe, but we think our award-winning pie is a good start."
In addition to award-winning fruit pies and freshly-made baked goods, the Apple Barrel also offers fresh produce, fresh-made sandwiches and soups and regionally-sourced specialty grocery products from Connecticut and New England. The Apple Barrel, located on 1,100 acres in the picturesque central Connecticut Valley, is the centerpiece of Lyman Orchards, which also includes pick-your-own orchards, agricultural mazes and 45 holes of golf.
Americans do love their pies. Here are a few tempting slices of information to chew on, according to the American Pie Council:

Approximately $700 million in pies – or approximately 186 million pies – are sold in grocery stores each year.
36 million Americans declare apple pie their favorite.
113 million Americans say they've eaten pie for breakfast.
90 percent of Americans say that a slice of pie represents one of life's simple pleasures.
6 million American men, ages 35 to 54, have eaten the last slice of pie – and denied it.
In addition to samplings of classic and new products, the Apple Barrel will feature live entertainment from the students of Coginchaug Regional High School, as well as costumed characters from CT Princess Party, raffles, special promotions, free face painting for children, activities table from Levi Coe Library and more.
About Lyman Orchards
Set on 1,100 acres in the heart of Connecticut, Lyman Orchards (est. 1741) is a year-round destination for the whole family in Middlefield. Shop at the Apple Barrel farm market, filled with fresh produce and Lyman Orchards' award-winning "Hi Top" Apple Pie; celebrate special events and weddings at the Lyman Homestead; enjoy seasonal Pick Your Own fruits and tours of the orchard; golf on two world-class, public 18-hole courses designed by Gary Player and Robert Trent Jones, and improve your skills at the Lyman Orchards Golf Center and Apple Nine Course. For more information, call Lyman Orchards at 860-349-1793, or visit us at lymanorchards.com.