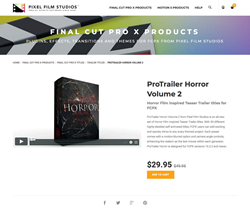 Incredible horror-themed trailers that can be tailored to any project in FCPX!
ALISO VIEJO, Calif. (PRWEB) March 14, 2018
ProTrailer Horror Volume 2 from Pixel Film Studios is an all-new set of Horror Film inspired Teaser Trailer titles. With 30 different highly-detailed self-animated titles, FCPX users can add exciting and spooky intros to any horror-themed project. Each preset comes with an additional motion-blurred option and camera angle controls, enhancing the realism as the text moves within each generator.
Each preset in ProTrailer Horror Volume 2 contains its own unique style while placing users in full control, achieving new levels of customization. ProTrailer Horror Volume 2 contains fully editable 3D text, keyframe-less animations, color controls, and more.
ProTrailer Horror Volume 2 includes a creatively intuitive edit mode, helping FCPX users quickly change the camera motions in real-time. By selecting and setting a starting point, mid-point, and end-point with rotation controls, users can generate limitless cinematic movement. Each preset contains kinetic intro and exit text animations, giving users the ability to animate by letter, word, or all content together.
ProTrailer Horror Volume 2 is designed with new levels of nightmarish-fear in mind. Every preset includes Camera-Lens refractions, environment composites, lighting and more. ProTrailer Horror Volume 2 gives users all the controls of past volumes implementing an easier workflow process. FCPX users can fully immerse the audience within a creative nightmare-themed trailer with ProTrailer Horror Volume 2.
"Creating an immersive trailer for my upcoming short slasher film was made even easier with ProTrailer Horror Volume 2" says Tony, a small film director based in southern California.
Established in 2006, Aliso Viejo, California-based Pixel Film Studios is an innovative developer of visual effects tools for the post-production and broadcast community. Their products are integrated with popular non-linear editing and compositing products from Apple FCPX. Apple, the Apple logo, Mac OS X, and Macintosh are registered trademarks of Apple Inc. in the U.S. and/or other countries. All other trademarks and trade names are the property of their respective owners.