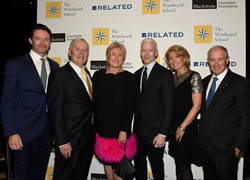 "We need Windward all over the country, because there is no school like it." - Dr. Sally Shaywitz
NEW YORK (PRWEB) February 25, 2019
New records were set at The Windward School Benefit this past Saturday, March 10, 2018. More than 600 attendees raised more than $1 million to support the School's mission to remediate its students with dyslexia and language-based learning disabilities and to provide more students with access to the Windward education program through increased financial aid. Held at Cipriani 42nd Street in Manhattan, the event was chaired by Lisa Bezos and Donna Poyiadjis, and honored Anderson Cooper, host of CNN's Anderson Cooper 360°; Christine and Stephen A. Schwarzman, worldwide philanthropists with a passion for education and literacy; and Drs. Sally and Bennett Shaywitz, pioneers in dyslexia research and co-directors of The Yale Center for Dyslexia and Creativity.
Ellen Bowman, President of the Windward Board of Trustees and a former Windward parent, started the night off with a rousing welcoming address that generated a standing ovation for the more than fifty Windward teachers in attendance to "thank them for the work they do, and that they are the ones that implement the Windward education program and give your children support every day."
Dr. John J. Russell, Head of School, followed and expressed his gratitude to everyone for helping Windward "create a future our students deserve." He stressed that despite the School's many accomplishments, "we are now at a critical reflection point. As we look to the future with a steadfast commitment and an unwavering sense of purpose, I see a future filled with possibilities for Windward and students with language-based learning disabilities." Russell also thanked event sponsors The Related Companies and Blackstone Charitable Foundation for their generous support, and Jennifer Gould and Diana Gould Ltd. for donating the evening's beautiful décor.
During their introductions of the honorees, Windward alumnae Skylar Handler, Skye Lucas, and Yaania Bell talked about the important tools Windward gave them that enabled them to return to mainstream schools and succeed.
Honorees spoke about the importance of The Windward School and its mission. Dr. Sally Shaywitz remarked that "we need Windward all over the country, because there is no school like it." Stephen A. Schwarzman acknowledged that "Windward is the best school of its type in the world, and it is at the cutting edge of implementing the best research and changing the lives of its students." Anderson Cooper shared about his childhood difficulties with dyslexia and gave thanks to the reading doctors and teachers that helped him and continue to help all dyslexic students by "opening up a world that may feel mysterious." He closed by saying that without them, "I wouldn't be where I am today, and I thank them every day of my life."
Hugh Jackman, with the assistance of energetic auctioneer CK Swett, kicked off the live auction of once-in-a-lifetime experiences and vacation packages. Guests also enjoyed delicious fare, as well as a trove of silent auction items including vacation packages, cultural events, jewelry, sports activities, and much more. CK Swett ended the auction with a lively and spirited paddle raise for financial aid that took money raised to a new, historic level.
Others in attendance included Deborra-lee Furness, His Royal Highness Pavlos of Greece, Sybil Kleinrock Yurman & David Yurman, Dr. Maryanne Wolf, Gillian and Bob Steel, Patty & Russell Wolff, Suna & Scott Maslin, Martha & Rich Handler, Jenny & Michael Price, Mary & Philip Erdoes, and Amanda & Rob Lowenthal.
About The Windward School
Windward is a coeducational, independent day school with three campuses in White Plains, NY, and New York City, dedicated to providing a proven instructional program for children with language-based learning disabilities. Windward is committed to helping students achieve their full potential in preparation for a successful return to a mainstream educational environment. To meet these goals, the School provides ongoing training to its faculty based on the most current research and shares its expertise with the parent body, other educators, and the broader community. For more information, go to thewindwardschool.org and interact with us on Facebook, Twitter, and Instagram.
Media Contact: Heather Pray, hpray(at)thewindwardschool(dot)org, 713-452-9529