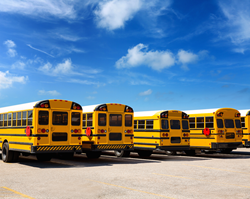 With this grant we have been able to help dozens of these school districts with the tools to make their fleets the safest for students. We hope that parents can feel confident sending their children to school knowing their buses are equipped with Zonar's leading safety technology
SEATTLE (PRWEB) March 13, 2018
Zonar, the leader in smart fleet management technology, and the National Association for Pupil Transportation (NAPT) are pleased to announce they will be jointly sponsoring the annual Don Carnahan Memorial Grant. Winners will receive up to $50,000 worth of industry-leading technology that will improve safety, effectiveness and efficiency of pupil transportation programs in the United States and Canada. To date, NAPT and Zonar have helped donate over 6 million dollars' worth of pupil technology over the past nine years.
"We recognize the challenges that school districts encounter to acquire the latest safest pupil technology so we're here to help," said H. Kevin Mest, senior vice president and general manager of passenger services at Zonar. "Partnering with the NAPT to give school districts much needed smart fleet technology is very important to us, and we hope our efforts help bring parents peace of mind about their kid's bus trip to school every day."
Grant winners will receive access to Zonar's industry-leading smart fleet management technology including Electronic Verified Inspection Reporting (EVIR®), Global Position System and Real-Time Engine Diagnostic Reporting (V3™), Student Tracking (Z Pass™), Ground Traffic Control (GTC) Coach and more, including our latest release; Verify. Verify gives drivers the ability to go on the computer and immediately know exactly what kids are on that bus, what kids have already exited that bus, and they can start notifying parents.
"There are 480,000 school busses on the road each day, carrying nearly 23.5 million students four billion total miles per year," said Mike Martin, executive director and CEO of NAPT. "With this grant we have been able to help dozens of these school districts with the tools to make their fleets the safest for students. We hope that parents can feel confident sending their children to school knowing their buses are equipped with Zonar's leading safety technology."
Applications will be evaluated and awarded to qualifying NAPT members for full and partial grants of up to $50,000 worth of equipment/hardware provided by Zonar.
For more information on the Don Carnahan Memorial Grant or to apply, visit http://www.zonarsystems.com/grant-program
About Zonar
Founded in 2001, Zonar has pioneered smart fleet management solutions throughout vocational, pupil, mass transit and commercial trucking industries. Zonar helps fleets of all sizes maximize the use of their assets with solutions dedicated to improving compliance, efficiency, maintenance, ridership visibility, safety and tracking. Cloud-based services with open API's drive Zonar's smart fleet solutions by making it easy for fleet owners and managers to stay connected to their fleets and drivers and operators to dispatch. Headquartered in Seattle and majority-owned by technology company Continental, Zonar also has a Technology Development Center in downtown Seattle, a regional office in Cincinnati, and a distribution center outside of Atlanta. For more information about Zonar, go to http://www.zonarsystems.com
About NAPT 
NAPT is the leading trade association in the student transportation industry, a vibrant and diverse community of people and organizations that share a passion for safe and efficient student transportation. They are a non-profit §501(c)(6) organization dedicated to helping their members engage in and influence policy making that will enhance operational safety and administrative efficiency. NAPT is headquartered in Albany, NY. http://www.napt.org