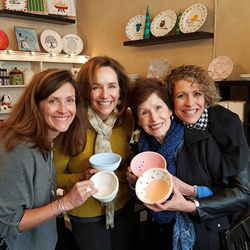 The majority of CCSA-member PYOP studios are family-owned small businesses that have deep roots in their communities
BOYNTON BEACH, Fla. (PRWEB) March 14, 2018
Every April during National Volunteer Month, thousands of individuals, families, groups and businesses look for ways to give back to their communities. This year, the Contemporary Ceramic Studios Association (CCSA) is encouraging volunteers to make a lasting difference with help from their local CCSA-member Paint Your Own Pottery (PYOP) Studio.
Just some of the meaningful and inspiring volunteer efforts that PYOP studios can assist with include:

Supporting "Believe Big", which is a non-profit organization founded by Ivelisse and Jimmy Page after her battle with Stage IV colon cancer. Volunteers create mugs with the word "Believe", which are then given to patients at a local cancer center or infusion center. The CCSA raised over $28,000 for Believe Big at its 2017 Annual Convention.
Holding a collection drive for donations, which are then given to a local charity to help those in need. For example, last month PYOP studio Painted Soul Pottery in Albuquerque collected everyday essentials for foster kids in New Mexico.
Supporting "Empty Bowls", which is an international project to fight hunger at the community level. Volunteers create ceramic bowls, which are then filled with soup and served at a special lunch or dinner in exchange for a donation towards a local charity, such as a local food bank or homelessness shelter.
Commented the Idaho Foodbank: "Paint your own pottery studio Ceramica in Boise has been a valued supporter of the Idaho Foodbank's premier holiday event, Empty Bowls, for many years. By ensuring that individuals, corporations and faith-based organizations have an opportunity to create a unique bowl for donation, Ceramica has contributed to the ongoing success of this popular community event that is integral to our hunger-relief effort."
"The majority of CCSA-member PYOP studios are family-owned small businesses that have deep roots in their communities," commented CCSA executive director Dena Pearlman. "They are ideal partners for fundraising and generating awareness of critical issues and worthy causes."
Individuals, families, groups and businesses that want to make a lasting difference in their communities can browse a listing of CCSA-member PYOP studios at http://www.paintyourownpottery.com.
Facebook users can also follow the CCSA at https://www.facebook.com/ccsapaintyourownpottery, or connect with PYOP fans across the world at https://www.facebook.com/Paint-Your-Own-Pottery-206166622756971/.
About the Contemporary Ceramic Studios Association
The Contemporary Ceramic Studios Association (CCSA) is a not-for-profit trade association serving the needs of ceramic and paint your own pottery studios and suppliers around the world. The Mission of the CCSA is to promote creativity and excitement about our industry and be a resource for our members. Whether you're a seasoned studio owner or someone who is thinking about opening your own Paint Your Own Pottery studio, this is the place to be.