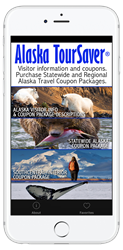 It's free to get the app at Apple's iTunes App store or the Google Play website.
ANCHORAGE, Alaska (PRWEB) March 13, 2018
The Alaska TourSaver® offers travelers exclusive 2-for-1 buy-one-get-one-free savings to a collection of adventures, tours, packages and admissions around the state.
In addition to the handy Alaska TourSaver coupon book, travelers can choose a TourSaver® smartphone app for iPhone or Android phones. Travelers can choose from four different savings packages: Inside Passage (including Juneau, Ketchikan and Skagway), Juneau, Southcentral/Interior (including Anchorage, Fairbanks, Denali National Park, the Alaska Railroad and the Kenai Peninsula) and the Alaska statewide package.
It's free to get the app at Apple's iTunes App store or the Google Play website. The free section includes valuable travel information and some tips on Alaska travel planning. Once travelers have downloaded the app to their smart phone, they can choose which package best fits their Alaska travel plans:
Here are some of the popular discounts included in the plans:
Inside Passage package ($49.99) :
2-for-1 Misty Fjords Flightseeing with Taquan Air
2-for-1 Zipline adventures in Juneau and Ketchikan with Alaska Canopy Adventures
2-for-1 Whalewatching with Alaska Galore Tours
2-for-1 Misty Fjords Flightseeing Adventure
2-for-1 Mt. Roberts Tram ride
Southcentral/Interior Alaska package ($69.99):
2-for-1 Alaska Railroad trips
2-for-1 Alyeska Resort tram ride
2-for-1 accommodations at the Inlet Tower Hotel in Anchorage
$100 OFF Denali flightseeing with Ruth Glacier Landing K2 Aviation
2-for-1 deep sea charter fishing for halibut and salmon with Ninilchik Charters
$50 OFF Kenai Fjords National Park glacier/wildlife cruise with Major Marine Tours
2-for-1 Riverboat Discovery cruise in Fairbanks
2-for-1 tour from Anchorage to Nome, including airfare on Alaska Airlines from Explore Tours
Juneau, Alaska package ($39.99):
2-for-1 whalewatching with Alaska Galore Tours
2-for-1 deep sea salmon fishing with Alaska Galore Tours
2-for-1 salmon bake with Alaska Travel Adventures
2-for-1 Juneau Food Tour with Midgi Moto
2-for-1 kayak tour with Alaska Travel Adventures
The Statewide Package ($89.99) includes all 115 offers.
Also new this year, the Alaska TourSaver will offer phone support to help travelers planning their trip to Alaska. The plans feature phone and email support from the publisher, Alaska travel expert Scott McMurren.