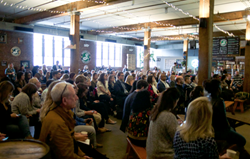 "We're bringing together innovation execs from the biggest global brands, talent leaders from startups, and then some of the smartest thoughts leader out there."
New York, NY (PRWEB) March 14, 2018
Uncubed has announced the addition of several high-profile speakers to its HR Uncubed conference, including Beth Comstock, the former Vice-Chair of GE, and current member of the board at Nike.
Comstock was named to the Forbes List of the 100 Most Powerful Women in both 2015 and 2016, and has built a career driving innovation and leading teams for some of the world's most storied brands. She previously was Chief Marketing Officer of GE, led GE's Business Innovations unit, and was President of Integrated Media at NBC, where she oversaw the company's digital efforts including the early development of Hulu.com and the acquisition of ivillage.com.
Uncubed announced that Shane Snow, co-founder of Contently, and author of the newly-release Dream Teams: Working Together Without Falling Apart has also joined the lineup. Snow's work has appeared in the New Yorker, Wired, Fast Company, Inc., and other publications. Also appearing will be Gina Waldorn, President of Quirky, Jessica Williams, Founder of The Superwoman Project, and Michael Parrish Dudell, a globally-renowned millennial talent expert, and author of the official business book of ABC's show Shark Tank, among others.
HR Uncubed takes place on May 1st and 2nd, in Williamsburg, the creative heart of Brooklyn, at the newly-opened Williamsburg Hotel, the Wythe Hotel, and other nearby venues. The core themes of the 2018 event cover the most pressing HR and talent acquisition issues for companies today including: leveraging AI and data, diversity, equity, & inclusion, building a winning employer brand, and candidate experience for next-gen talent.
"We're bringing together innovation execs from the biggest global brands, talent leaders from startups, and then some of the smartest writers and other thoughts leader out there," said Tarek Pertew, Chief Creative Officer of Uncubed, adding "combined with the contributions of our attendees, we think it generates maximum takeaway value for our community."
Additional content around diversity, equity, and inclusion and digital transformation has also been added, Pertew noted, reflecting the increasing focus of these topics among HR leaders.
"The considerations for attracting top people, building efficient teams, and retaining key contributors have been completely overhauled in just the last few years," said Pertew, "which is why we believe so strongly in getting people together for idea exchange and tactical knowledge-share."
Uncubed now maintains both SHRM and HRCI accreditation and attendees will be eligible for qualifying professional development credits in accordance with their standards.
Participants can expect to increase their understanding of how to build and maintain world-class teams in an environment where AI and data, candidate experience, employer brand, and diversity, equity, and inclusion represent both today's biggest opportunities and challenges.
Uncubed encourages anyone who plays a significant part in the hiring, recruiting, or employer branding process for their company to attend HR Uncubed. It's a highly-relevant learning and network opportunity for both growth stage companies and established corporations executing digital transformation strategies. Conference passes start at $999 per attendee and include access to two days of content including keynote addresses, along with food and other refreshments. The headline sponsor partner for HR Uncubed 2018 is IBM. To view the full speaker list and conference schedule, or to purchase conference passes, please visit http://hr.uncubed.com.
For bulk ticket rates (3 or more), or to inquire about conference sponsorship, please reach out to sales(at)uncubed(dot)com.
###
ABOUT UNCUBED
Uncubed is a next-gen talent platform, offering a video-first job board along with a full range of tech-enabled services for building employer brand, attracting top talent, and digital transformation. The Uncubed software platform delivers pioneering content and talent acquisition analytics and access to high-quality candidates across skillsets. Uncubed works with both growth stage startups and innovative Fortune 500 companies including IBM, United Technologies, Peloton, Letgo, and more. To learn more about Uncubed, please visit http://www.uncubed.com.