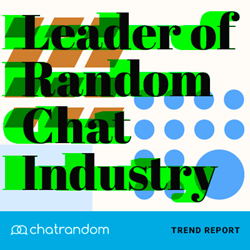 We have always listened to the feedback of our users and continually work behind the scenes to improve the overall user-experience across the Chatrandom platform
LOS ANGELES (PRWEB) March 15, 2018
Chatrandom, a free random video chat platform, has taken giant strides towards becoming the most popular service of its kind in 2018. Currently sitting just outside the top 6,000 websites globally according to alexa.com, Chatrandom has risen over 3,000 places in the past 12 months. Having overtaken Chatroulette a few years ago, Chatrandom is now quickly gaining on Omegle to become the most popular video chat platform in the world.
Reasons for the rise of Chatrandom and the fall of similar services are numerous. Chatrandom has consistently provided users with innovative upgrades and exciting new ways to use the platform. Since the launch of Chatrandom, the platform has undergone numerous changes and improvements including the switch from Adobe Flash to the securer and speedier WebRTC protocol technology, the introduction of multi-platform access across almost any device, and the implementation of geographical-based filtering features.
"The growth of Chatrandom over the past year has been phenomenal," said Chatrandom PR Director, Shea Robins, "We have always listened to the feedback of our users and continually work behind the scenes to improve the overall user-experience across the Chatrandom platform."
Chatrandom has also capitalized on the global market rather than just concentrating on English-speaking countries such as the United States and the United Kingdom. Last year, the platform introduced over 30 new languages, leading to a significant increase in traffic from countries such as Germany, Brazil, Turkey, Portugal, and many others. The signs are extremely positive for another big year on Chatrandom with many exciting and innovative ideas in the pipeline leading to predications that 2018 could be the year that Chatrandom overtakes Omegle as the most popular random chat site in the world.
About Chatrandom
Chatrandom is a social networking chat site and mobile application which randomly connects people from all over the world via webcam. The service offers unique features such as the ability to only connect with users from an individual country and lightning fast connections to quickly go from one random webcam to another. Chatrandom is available across almost all platforms including computer, mobile, and tablet functionality.