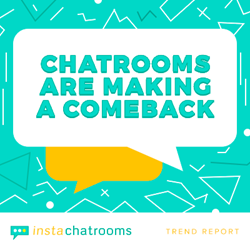 With the growing popularity and availability of video chat, we moved forward with an innovative chat room platform which connects people face-to-face and is accessible across a range of devices
Los Angeles, CA (PRWEB) March 26, 2018
Instachatrooms, a multi-topic chat room platform, is pioneering a new breed of chat rooms, over 20 years after AOL chat rooms first took the internet by storm. Offering users a wide range of chat room categories such as Sports Chat, College Chat, and Random Chat among others, the platform utilizes cutting-edge WebRTC html 5 technology which allows users access to the platform via almost any device and enjoy a wider range of features than similar services. Video chat has been rolled out over the world's most popular social networks in recent months, including Facebook and Twitter, and this new combination of traditional chat rooms and video chat has already seen significant traffic growth across Instachatrooms.
While Instachatrooms has its roots in the very first AOL chat rooms, there are significant differences which appeal to today's market. The old fashioned chat rooms were equivalent to a noisy concert, with hundreds of people all vying for attention in the same chat lobby. However, Instachatrooms has evolved this idea and connects people one-on-one and face-to-face via video chat for a deeper, more meaningful conversation. The result has seen Instachatrooms grow over the past twelve months both in time spent on the site and number of page views per user, according to https://www.alexa.com/siteinfo/instachatrooms.com
"Our vision for Instachatrooms began with analyzing the popular AOL chat rooms and figuring out how we could make them appeal to a modern audience", said Instachatrooms Press Manager, Shea Robyn, "With the growing popularity and availability of video chat, we moved forward with an innovative chat room platform which connects people face-to-face and is accessible across a range of devices."
While the front end of Instachatrooms is carefully designed to provide accessibility and ease of use to the users of the service, there is innovation happening under the hood also. Instachatrooms utilizes WebRTC html 5 technology which allows faster and more stable connections on video chat and uniform performance across PCs, mobile, and tablet devices. With dedicated mobile apps for Android, Apple, and Windows devices in development, Instachatrooms will continue to bring chat rooms to modern internet users.
About Instachatrooms
Instachatrooms is a chat room service which provides a platform for people to connect with strangers, seek support and help, and discuss everything from sports to politics. The service offers a variety of free chat rooms where users can chat in a main lobby with hundreds of other users or private chat with individual users using a unique nickname. The service also includes webcam chat, customization of fonts and text, and user avatars.