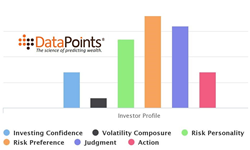 The Investor Profile gives advisors a scientific framework to guide clients towards better investing behaviors.
MARIETTA, Ga. (PRWEB) March 20, 2018
DataPoints announced today the release of its Investor Profile assessment of psychological risk tolerance. The assessment provides advisors and clients detailed information regarding key behavioral factors that impact investment-related decision making, as well as target portfolio allocations based on data from over 14,000 clients working with advisors.
"While technology is automating a large part of investment management, advisors are in a unique position to guide clients to make better investing decisions. The Investor Profile assessment gives advisors a scientific way to assess psychological risk tolerance and a framework to steer clients towards better investing behaviors at the same time," explained Sarah Stanley Fallaw, Ph.D., founder and president of DataPoints. "Our mission is to create behavioral science tools that help individuals change behaviors and build wealth. The Investor Profile gives advisors an automated and intuitive tool to help manage the behavioral elements of their clients' investment portfolios."
Advisors invite clients to take the assessment, and an Investor Profile score is calculated using the DataPoints scoring algorithm. The results of the Investor Profile assessment are linked to a proprietary data set analyzed by FP Performance Lab LLC, a research group affiliated with the University of Georgia, to map scores to portfolio allocations based on similarly constructed portfolios held by 14,000 individuals over a multi-year data gathering process. "The mapping process is designed to make risk profiling scores more applicable to the daily practice of financial planning and investment management. Essentially, a client's score gets tied to a benchmark portfolio allocation. The allocation represents how portfolios of similar investors (those working with a financial advisor) have been allocated. The approach takes the discussion of risk profiling from a theoretical exercise to something very practical." says Dr. John Grable, professor of financial planning at the University of Georgia and co-founder of the FP Performance Lab.
In addition to the overall Investor Profile score and an Action score, which is designed to scientifically predict the likelihood that an investor will make ill-advised decisions during times of market volatility, the assessment measures client characteristics on five critical factors:

Investing Confidence: Confidence and self-efficacy in investment decision-making
Volatility Composure: Behaviors and experiences during times of market ups and downs
Risk Personality: Personality related to trying new ways of approaching problems or taking chances
Risk Preference: Preference for certain types of investments
Judgment: Knowledge and outlook related to sound investing principles
The DataPoints platform provides two comprehensive Investor Profile reports: one designed for the advisor and one that is white-labeled for the client. Each report provides detailed information about the client's scores and narrative interpretation. The advisor report provides additional interpretative information and open-ended questions to guide the client through the report. Additionally, the results of the Investor Profile tool can be used to create automated behavioral nudges to help guide clients toward becoming better investors. Advisors can choose from a library of behavioral recommendations or add their own. An overview of the Investor Profile is available here.
The Investor Profile was created by psychologists at DataPoints using best practices in psychometric test development and validation. A comprehensive technical report is available to DataPoints clients that outlines development and mapping methodology associated with the Investor Profile. The Investor Profile is part of the larger library of client-focused assessments on the DataPoints behavioral finance platform, including the Building Wealth (financial behaviors) and Financial Perspectives (attitudinal) assessments. This first-of-its-kind technology provides advisors a comprehensive way of assessing and coaching financial-related behaviors and was featured in the 2016 and 2017 XY Planning Network fintech competitions.
About DataPoints
DataPoints provides behavioral science tools to enable advisors to impact client financial success. Using more than 40 years of behavioral, consumer, and demographic data and findings that shaped the best-selling book, The Millionaire Next Door, DataPoints enables advisors to identify and guide client financial behaviors. For more information about DataPoints, visit the website at http://www.datapoints.com.