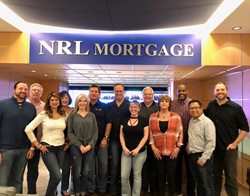 TEMECULA, CA (PRWEB) March 14, 2018
NRL Mortgage, one of the fastest-growing lenders in the industry, is pleased to announce the joining of branch manager Tony Votaw and his team of prominent mortgage professionals in the Southern California area.
With over 500 years of combined mortgage experience, the Votaw Group consists of seven branches across the Southwest region that collectively average more than $200M in annual loan production.
Tony Votaw and his team chose to join NRL for several reasons, but his group's commitment to create a superior borrower experience remained at the forefront of the decision. "Any change we make is done to ensure that we can continue to deliver outstanding service to our clients. That's why we are excited for the opportunity to align ourselves with NRL, as they provide us the best platform of tools and support to carry out our mission," said Votaw.
"We are very proud to welcome the Votaw group to NRL. These branches have such a high standard for service, leadership, origination and most importantly, reliability. It's a perfect culture fit!" said Ron Zach, CEO & President of NRL Mortgage. "This group shares our company's core values and compliments our culture on a corporate level, so we are really excited to see this partnership flourish."
The addition of the Votaw Group is the latest contribution to the significant growth shown by NRL in recent years, expanding the regions that the company serves and enhancing their presence in the western United States.
---
About NRL Mortgage
Nations Reliable Lending, LLC (NRL) is a national residential mortgage company founded in 2007 and headquartered in Houston, Texas. Specializing in the origination of residential mortgage loans, NRL currently originates in 44 states (with 1 state pending) with more than 50 retail branch locations. Named as an Inc. 5000 Fastest Growing Private Company for 4 years, NRL continues to grow exponentially throughout the US. With a full suite of loan products within each branch, NRL Mortgage professionals enjoy access to the necessary tools to be the best in the industry. At NRL, we are committed to providing the most reliable lending experience. For more information, visit http://www.nrlmortgage.com.