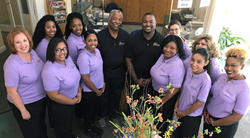 Vicksburg, MS (PRWEB) March 13, 2018
Experienced dentists in Vicksburg, MS, Drs. Kenneth and Jonathan Nash, educate patients on full mouth reconstruction and encourage patients with failing oral health to schedule a treatment consultation, with or without a referral. Full mouth reconstruction treatment can include procedures such as Lumineers®, dental implants, orthodontics, gum disease treatment, and teeth whitening, and is often an important step in improving oral health. With a focus on positive patient experiences, the practice strives to create an atmosphere of comfort and safety, and incorporates modern, minimally-invasive dental technology into every treatment plan.
Multiple teeth and gums can be compromised by oral trauma, dental decay, and severely crooked teeth. Patients with missing teeth, gum disease, and failing restorations, can suffer from complications in oral health and function. No matter the cause, multiple issues can lead to declining oral and overall health, a loss of smile aesthetics, and low self-esteem for the patient. When a more complex restorative process is needed, patients with these concerns can receive custom full mouth reconstruction treatment that restores oral function, along with improving the appearance of the smile.
Full mouth reconstruction is a series of restorative, cosmetic, and periodontal procedures designed to restore the teeth, jaw bone, and gums back to proper oral health. A full mouth reconstruction can include any number of treatments, including replacing missing teeth, treating disease and decay, and straightening teeth, among others. Many times, this treatment is followed up with cosmetic procedures, such as teeth whitening, to complete visual aesthetics as well as functional restoration. Treatment plans can range from a simple, full set of Lumineers to restore the color, shape, and height of stained, fractured, or worn teeth to the total restoration of a full arch of missing teeth. Drs. Nash create custom treatment plans designed to restore complete oral function while meeting the aesthetic smile goals of each patient. Created with each patient's comfort in mind, Drs. Nash incorporate many dental technologies—digital x-rays and scans, dental lasers, and sedation dentistry—into their full mouth reconstruction treatment plans to ensure greater patient comfort, less invasive procedures that improve healing, and more predictable treatment outcomes.
Patients looking for a new dentist in Vicksburg, MS, experienced in full mouth reconstruction procedures can turn to Drs. Nash. From Lumineers to dental implants, Nash Family Dentistry offers experienced and high-quality care that produces long-term health and aesthetic benefits. Contact Drs. Nash by calling 601-634-1812 or visiting http://www.vicksburgdentist.com to schedule a personalized full mouth reconstruction consultation.
About the Practice
Nash Family Dentistry is a general practice offering personalized dental care for patients in Vicksburg, MS. Dr. Kenneth Nash, Dr. Jonathan Nash and their team provide patients with the latest in dental technology in a comfortable and welcoming environment. Drs. Nash offer a variety of services including laser dentistry, dental implants, and cosmetic dentistry services, among others. To learn more about the services offered at Nash Family Dentistry please visit the website at http://www.vicksburgdentist.com or call 601-634-1812 to schedule an appointment.