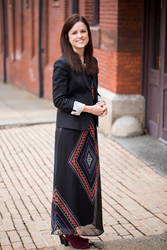 The impact these women make across our state demonstrates why they are truly Maryland's Top 100 Women.
BALTIMORE (PRWEB) March 13, 2018
The Daily Record began Maryland's Top 100 Women in 1996 to recognize outstanding achievements by women demonstrated through professional accomplishments, community leadership, and mentoring.
Stauder was chosen from nearly 425 women who were nominated this year for the statewide honor. Nominees were asked to complete an application outlining their educational and career history, professional and community involvement, corporate and nonprofit board memberships, and mentoring experience. They were encouraged to submit letters of recommendation from those who are familiar with their accomplishments professionally, in the community and through mentoring.
A panel of business professionals and previous Maryland's Top 100 Women honorees from throughout the state reviewed the final applications and selected this year's honorees. "Maryland's Top 100 Women create change and break barriers in their professional worlds but also make a difference at home and in their communities", said Suzanne Fischer-Huettner, publisher of The Daily Record. "We applaud our honorees for their passion, their commitment to excellence and for the work they do to bring communities together. The impact these women make across our state demonstrates why they are truly Maryland's Top 100 Women. The Daily Record is honored to recognize them."
The Maryland's Top 100 Women awards celebration will be held on April 23 starting with a reception at 5 p.m. at Joseph Meyerhoff Symphony Hall, 1212 Cathedral Street in Baltimore.
The awards will be presented at 6:30 p.m. followed by a dessert reception. The event hashtag is #TDRawards.
Winners will be profiled in a special magazine that will be inserted into the April 24 issue of The Daily Record and will be available online at http://www.TheDailyRecord.com.
Circle of Excellence Sponsor of The Daily Record's 2018 Maryland's Top 100 Women is GBMC. Reception Sponsor is Notre Dame of Maryland University. Leadership Sponsor is Towson University. Celebration Sponsor is Executive Alliance. Corporate Club Sponsor is VPC Inc. Preferred Seating Sponsor is Epsilon Registration.
ABOUT THE DAILY RECORD
Celebrating 130 years of journalistic excellence, The Daily Record is a multimedia news source that publishes a print and online edition five days a week and breaks news daily on its website, TheDailyRecord.com. In addition, The Daily Record publishes more than 30 special products a year including Path to Excellence: A Women's Guide to Business, Doing Business in Maryland, Be What I Want to Be and Expanding Opportunities. The Daily Record also honors leading Marylanders through 10 annual awards events including Maryland's Top 100 Women, Influential Marylanders and Most Admired CEOs. Its Digital Marketing Solutions helps customers with social media, search engine marketing and optimization, retargeting, email marketing and more. The Daily Record is part of BridgeTower Media, one of the country's leading business-to-business media companies with 44 print and digital publications in more than 20 U.S. markets.
ABOUT HASA
One of Baltimore's oldest nonprofit organizations, The Hearing and Speech Agency's (HASA) mission is to support prevention, treatment and advocacy initiatives related to communication. Services include hearing aids, hearing health programs, speech- language evaluation and therapy, special education, school-related language and literacy programs, interpreting, and sign language classes. For more information, please visit http://hasa.org or call (410) 318-6780.