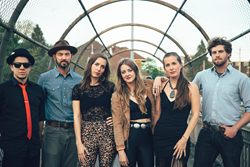 Together, on upright bass, washboard, guitar and drums they create gorgeous harmonies both sonically and visually. - Elmore Magazine Reviews
SAN RAFAEL, Calif. (PRWEB) March 20, 2018
Born and raised in California and now based in the creative hub of Oakland, the T Sisters embody harmony. It's in their blood, bones, and history.
Erika, Rachel, and Chloe have been singing and writing music together since childhood and the lifetime of practice shows. Their sound represents a continuum of music, from traditional to pop influences, moments of breathtaking a cappella to swells of energetic indie Americana.
The three sisters' inventive songwriting is supported by their own acoustic instrumentation on guitar and banjo, along with upright bass (Steve Height), mandolin/guitar (Andrew Allen Fahlander), and drums (Marlon Aldana).
WHAT: An evening of glorious original pop-Americana, from the T Sisters, an amazing local talent that has taken the Bay Area by storm and is quickly making their name in the national music scene.
SEATING: General Admission || small cabaret tables.
WHEN: Sat. May 12 @ 8:00 ~ Doors @ 7:30.
WHERE: The Osher Marin JCC, 200 N San Pedro Rd, San Rafael, 1/2 mile E off 101
PARKING: Ample FREE on-site parking.
CONCESSIONS: Beer, Wine, Peets Coffee, Numi Teas and a variety of snacks and freshly baked goods available for purchase.

Concessions may be enjoyed in the theater throughout the performance.
No table service.
TICKETS: $30 - $35
Video Links:
"The Road" - The Bluegrass Situation world premiere
"Woo Woo" - Jam In The Van
The Kanbar Center is the Performing Arts Department within the Osher Marin JCC in San Rafael, California. For over 25 years they have been building community through the power of the arts with music, voice, humor, taste, culture, movement, and words. You may find classical music, comedy, musical concerts, jazz, theater, and performance in the grand Hoytt Theater, as well as lectures, chats, and demonstrations in the Kurland Lounge and the award-winning family-friendly, multicultural Summer Nights outdoor music festival on Swig Field.
The Kanbar Center also oversees the rental of these spaces for special events, fundraisers, and community celebrations.