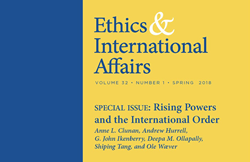 Each essay in the special roundtable examines the future of the global order from the perspective of one or more major rising powers, as well as the EU and the US.
(PRWEB) March 14, 2018
"Ethics & International Affairs," the quarterly journal of Carnegie Council, is pleased to present a Special Issue on "Rising Powers and the International Order," featuring a roundtable organized by G. John Ikenberry and Shiping Tang.
One of the great dramas of world politics across the centuries has been the rise and decline of leading states. The roundtable brings together distinguished international scholars to reflect on the ongoing grand power transition, focusing on the ways that rising states may be shaping and reshaping global order. Each essay investigates the present and future order from the perspective of a different international actor, including China, India, Russia, the EU, and the United States, as well as the BRICS writ large. The collection will be valuable not only to international relations theorists and those who study rising powers but also to anyone concerned about the normative implications of a shifting global order, including scholars of global governance reform, international law, and human rights.
Beyond the roundtable, the Spring 2018 Special Issue also contains an essay by Ayelet Shachar on golden visa programs and the marketization of citizenship, a review essay by Gillian Brock on eliminating corruption, and four book reviews.
THE ENTIRE ISSUE IS OPEN ACCESS FOR A LIMITED TIME. For details, go to: https://www.ethicsandinternationalaffairs.org/2018/spring-2018-issue-32-1/
ESSAY
The Marketization of Citizenship in an Age of Restrictionism
Ayelet Shachar
ROUNDTABLE: RISING POWERS AND THE INTERNATIONAL ORDER
Introduction
G. John Ikenberry and Shiping Tang, Guest Editors
Why the Liberal World Order Will Survive
G. John Ikenberry
China and the Future International Order(s)
Shiping Tang
Russia and the Liberal World Order
Anne L. Clunan
India and the International Order: Accommodation and Adjustment
Deepa M. Ollapally
A Post-Western Europe: Strange Identities in a Less Liberal World Order
Ole Wæver
Beyond the BRICS: Power, Pluralism, and the Future of Global Order
Andrew Hurrell
REVIEW ESSAY
How Should We Combat Corruption? Lessons from Theory and Practice
Gillian Brock
REVIEWS
Ethics in an Age of Surveillance: Personal Information and Virtual Identities
Adam Henschke
Review by Kevin Macnish
Selling the Future: The Perils of Predicting Global Politics
Ariel Colonomos, trans. Gregory Elliott
Review by Colleen Murphy
The Global Health Crisis: Ethical Responsibilities
Thana Cristina de Campos
Review by Brigit Toebes
Environmental Success Stories: Solving Major Ecological Problems & Confronting Climate Change
Frank M. Dunnivant
Review by Steven Vanderheiden
Briefly Noted
ABOUT "ETHICS & INTERNATIONAL AFFAIRS"
"Ethics & International Affairs" aims to help close the gap between theory and practice by publishing original articles, essays, and book reviews that integrate rigorous thinking about principles of justice and morality into discussions of practical dilemmas related to current policy developments, global institutional arrangements, and the conduct of important international actors. Go to eiajournal.org.