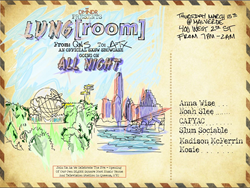 The SXSW concert is a celebration of our upcoming opening of a 20,000 square foot DMNDR live concert venue in NYC- the largest of its kind scheduled to open later this year.
NEW YORK and AUSTIN, Texas (PRWEB) March 13, 2018
DMNDR, the world's only demand-driven music production and concert venue, will be hosting "LVNG[room]," an intimate evening of performances celebrating some of the best Neo-soul, Funk, and R&B musical artists at South by Southwest on March 15, 2018, 7PM-2AM at Malverde, in Austin, Tx.
DMNDR founder John Belitsky said the concert is also a celebration of its upcoming opening of its 20,000 square foot NYC live concert venue- the largest sized-venue of its kind scheduled to open in NYC later this year.
Break-out performers at the South by Southwest event will include: Grammy Award-winner Anna Wise, Noah Slee, Madison McFerrin, Slum Sociable, CAPYAC, and Mosie. From Brooklyn-based Wise and McFerrin to Berlin-based Tongan-New Zealand musician Noah Slee, the mix epitomizes the worldwide phenomenon of DIY artists who are the community DMNDR represents.
DMNDR, (pronounced 'demander') identifies influencer passion for artists and creates broader demand for exceptional talent. It accepts submissions and content from a worldwide community of fans and early adopters. Many of the highly authentic and quickly rising artists showcased by DMNDR will go on to sell out stadiums.
"Our venue will perfectly blend the spirit of DIY venues, the property's unparalleled acoustical qualities, state-of -the-art technology, and DMNDR's thriving arts community to create the most immersive, powerful musical experiences in the history of New York City. We are providing a collaborative and communal destination for grassroots discovery of and passion for music and the arts that's reminiscent of what many of us affectionately refer to as 'Old New York,'" said Belitsky. A Virtual Reality presentation of the space is available upon request.
Based in New York City, DMNDR helps curate, cultivate and promote musical artists across a multimedia platform of fan-submitted content, blogs, videos, as well as its own produced videos and live streamed corporate-sponsored performances. The media company is now booking live performances and corporate-sponsored engagements for its 20,000 square foot mega venue in the Kaufman Arts District of Long Island City.
###
Anna Wise is a Grammy winning singer, songwriter, and performer based in Brooklyn, NY. Anna has garnered a dedicated following amongst musicians and music fans alike ever since her collaborations with Kendrick Lamar on good kid, m.A.A.d city ("Real," "Bitch Don't Kill My Vibe," "Money Trees") and To Pimp a Butterfly ("These Walls," "Institutionalized"). Their song "These Walls" won the Grammy award for Best Rap/Sung Collaboration at the 2016 Grammy's. Anna also performs alongside her band, Sonnymoon, with whom she has released three albums, Golden Age, Sonnymoon, and The Courage of Present Times. Anna has shared the stage with artists such as Kendrick Lamar, Kimbra, The Roots, Givers, Flying Lotus, Bilal, Teebs, Tei Shi, and more.
Madison McFerrin is a singer, songwriter, producer based in Brooklyn, NY. In December 2016, her solo debut EP, Finding Foundations: Vol. I, introduced her R&B/soul take on a capella to the world. Critics and crowds quickly took note. Leading up to her sold out show at Joe's Pub, the New York Times remarked how her sound "shows wonderful vocal dexterity, deftly swerving from sharp, clearly enunciated staccato bursts to fluttery, free-form melismata."
Noah Slee is an NZ born, Brisbane raised and now Berlin based RnB singer, producer and multi-instrumentalist. Over the past year he has been receiving praise from the likes of Boiler Room, Okayplayer, AFROPUNK and IndieShuffle and has been raising the roof at festivals across Europe since relocating to Berlin.
His forthcoming 'Otherland' mixtape, to be released on Melbourne tastemaker label Wondercore Island early in 2017, is his most powerful and vulnerable offering to date. 'Otherland' explores and deconstructs own experiences with religion, sexuality, and personal identity of place.Collaborating with German native Ben Esser to produce 'Otherland' as well as support from Red Bull Studios in Berlin. The record features a swathe of other collabs from around the globe including: Georgia Anne Muldrow, Shiloh Dynasty, Simon Mavin and Paul Bender (Hiatus Kaiyote), Jordan Rakei and more.
Recently Noah Slee signed with UTA for bookings across UK/EU and North America and has partnered with Niche Productions for AU booking and will be playing shows through December 10 2016 till March 10, 2017 in Australia and NZ.
Slum Sociable are Edward Quinn (production/keys/guitar) and Miller Upchurch (vocals and percussion), a Melbourne duo steeped in groove, the intersection of jazz, electronica and soul. Formed for a university assignment in 2014, their debut EP 'TQ' was released in 2015 to much critical acclaim. Expanding to an electrifying four piece live with Dylan Savage (Bass, Synth) and Ryan Beasley (drums). Tracks like 'All Night' and 'Apartment' received love from noted radio stations including Beats 1, BBC Radio 1 and KCRW, also popping up on a throng of Spotify and Apple Music Playlists. In July 2017, the band released a new single 'Don't Come Back Another 100 times' and announced their debut self titled album for release on November 24 through Liberation Records. The first single from the LP, 'Don't Come Back Another 100 Times' was added to rotation on FBi radio and has since amassed over 1.2 million Spotify streams, featuring on massive playlists around the globe. Hilly Dilly described the track as their "most intriguing, drugged out to date". Previous single, 'Castle' beautifully showcases a darker side to the project and has received online praise from CLASH, Indie Shuffle and Purple Sneakers, just to name a few.
Mosie is the musical collaboration between Boston-based singer/songwriter/producer Jesse LeVines and musician/producer Aidan Brody. setts local teamed up with Brody to begin cooking their debut studio album, Tangerine (2018). Mosie's sound is best described as a Bratwurst Bump: a rugged sound, with a bold hip-hop backbone, smeared with crisp, tangy vocals, and luscious synth and guitar lines filling in the cracks. They take influence from old soul crooners, 80s disco, and a wide range of hip-hop, scooping them all into the sexiest sundae you've ever heard.
Capyac is a surreal dance act made up of one half swamp baby (P. Sugz),one half mechanical trash diva (Potion). To question the origins of the band is to ponder the origin of humanity itself. When founding member Potion stumbled upon the name, half-conscious on his bedroom floor at 3 a.m., it was nonsense, much like the primordial soup from which life on this planet emerged. Soon after, he performed his first show at the 2014 closing party of Wardenclyffe Gallery (birthplace of dematerialism). It was that summer in the sensuous milieu of youth and self discovery that Potion asked P. Sugz to joined the band. And from that moment it was a flurry of late night sets and caffeine filled studio debauchery.
The duo began to sculpt a unique sound out of their diverse musical backgrounds. They gained notoriety online after their debut EP Movement Swallows Us in 2015, followed up by releases on Lavish and Crosswalk Records. Their full-length album Headlunge was released summer 2016, and was followed by an extensive US/European tour.
In January 2017 the duo released the song"Cloud" with French label Crosswalk Records, which, despite having no actual references to clouds, elevated their reach extensively in Europe, Korea, and Japan. February saw the release of their second EP Fis, which their manager Samosa described as "a dark and swampy romper, sad and alone, meets the clean-cut hero of a Jodorowsky film."
2017 has been referred to by many experts as "The Year We Heard About Capyac," with appearances at Austin City Limits, Euphoria Music Festival, South By Southwest, and Red Bull Sound Select.